Flood Insurance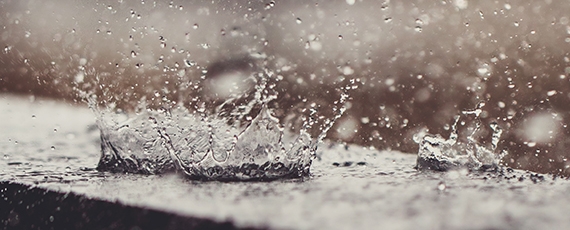 Over the long run, the average American home is more likely to suffer damage from flooding than from fire. And you don't have to live by a river, lake, or ocean for flooding to affect you. Nearly a quarter of all flood claims happen in other areas. Flooding can result from a wide variety of causes: storm surge associated with hurricanes and tropical storms, sudden downpours and flash flooding, prolonged rainfall or rapid snowmelt, water main breaks, and more.
Many homeowners assume that their home insurance covers the damage caused by these events, but that's unfortunately not usually the case.
Flood Facts
In most cases, it takes 30 days after purchase for a policy to take effect, so it's important to buy insurance before the storm approaches and the floodwaters start to rise.

Everyone lives in a flood zone, regardless of whether you live near a body of water.

Wildfires and drought conditions increase the risk of flooding. Dry, charred ground is unable to absorb water making conditions ripe for flash flooding or mudflow.

In the past 5 years, all 50 states have experienced floods or flash floods.

In a high-risk flood area, your home is more likely to be damaged by flooding than by fire.
The Solution Is Simple
A basic and affordable flood insurance policy, backed by the federal government's National Flood Insurance Program (NFIP), is available in most communities.
Some insurers also offer their own private flood policies that may provide broader coverage and more favorable loss settlement terms than the government's NFIP policy, including:
Costs to comply with any law or ordinance requiring you to repair, rebuild, elevate, flood-proof, or demolish your home after a covered flood loss.
Additional living expenses — costs incurred to reside elsewhere while your home is repaired or rebuilt.
Increased coverage for loss avoidance expenses such as sandbags, labor, and contents removal.
Coverage for finished basement areas.
Stabilization, evacuation, or replacement of land.
Higher limits for valuables. Additional protection is also available in the form of excess flood insurance with higher loss payment limits for your home and possessions.
To learn more about flood protection and to ensure you have the proper insurance coverage in place, contact a Marsh McLennan Agency PCS Personal Risk Advisor.