Auto Insurance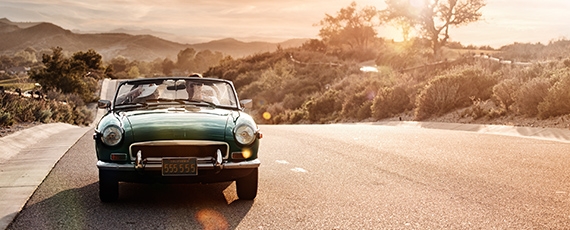 Performance-inspired auto insurance 
With all the auto insurance options available in the market, it might seem overwhelming to keep track of the differences. But there are some important differences between standard auto insurance and the coverage required for high-value, luxury, or collector cars.
Auto coverage that's beyond ordinary
Whether it's a sports car or an SUV, today's vehicles are constructed with specialized technology and lightweight materials that make them more fuel-efficient and offer better protection for drivers and passengers. But after an accident, you want peace of mind knowing your vehicle has been repaired precisely to the manufacturer's specifications.
Stay financially safe from uninsured motorists
Another coverage consideration is uninsured motorist/underinsured motorist (UM/UIM). UM/UIM coverage offers protection if you, your family, or passengers in your vehicle are injured by a driver who is uninsured or does not have enough insurance. This coverage also protects you if you're struck by a car as a pedestrian or involved in a hit-and-run accident.
Although automobile liability insurance is required in most states, many drivers don't have it. Nearly one in eight drivers are uninsured.
UM/UIM coverage is a relatively inexpensive way to help protect you and your family against potentially significant out-of-pocket expenses because of injuries caused by another driver.
Your next steps
It's easy to work with us to ensure your auto policy will respond the way you expect it to in the event of an accident or other claim situation. No one has the expertise, knowledge, resources, or reach to handle your needs the way we do. Schedule your personal risk management review now. 
Coverage features our clients appreciate most.1
With agreed value coverage, the value of your vehicle is locked in for the policy term, and your deductible is waived in the event of a total loss.
If repairs must be made to your vehicle, original replacement parts protection guarantees only original manufacturers' parts will be used.2
Full-glass protection means coverage for glass breakage is provided without requiring a deductible payment.
With roadside assistance, help is just a phone call away when you need assistance with towing, tire replacement, lockouts, breakdowns, and more.
If you have an existing auto loan or lease, lease gap protection, a total loss won't leave you with out-of-pocket expenses associated with an outstanding loan balance.
Transportation expense coverage means you'll be reimbursed, with no per-day limit, for the cost to rent a comparable vehicle while yours is being repaired.3
With worldwide coverage, you're protected if you rent or borrow a vehicle outside the U.S.4
 
1 Specific coverage features may vary by state, insurer, and/or vehicle.
2 Unless the parts are no longer made; excludes window glass in some instances.
3 There may be a reimbursement limit for total transportation expenses.
4 Some countries/jurisdictions require the purchase of local coverage. There may be time frame limits.
5 Insurance Research Council, NAIC