Protecting Historic Homes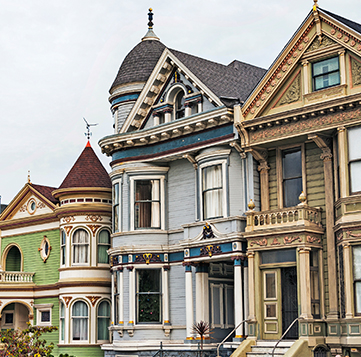 When the owners of a 1940s Frank Lloyd Wright house in South Carolina began restoring their architectural gem, in order to remain faithful to the authenticity of the design, they found a kiln that custom made the extra-long bricks specified in the original plans. To find the specific shade of red, they matched the paint from a car Wright drove in the 1940s. Clearly working on a labor of love, these homeowners would not be happy with anything less than similar attention to detail from their insurer should they ever need to make an insurance claim following damage to the property. 
If a home like this were to be damaged, a standard homeowners policy would be inadequate to restore it to its historic splendor leaving the homeowner responsible for a significant portion of the rebuilding costs. It's important for owners of homes with historic features — not only those on a local, state, or national registry of historic homes — to consider whether you have enough insurance and if you have the right type of policy in place. 
Historic Home Insurance Benefits
Specialized historic home insurance can be designed for those who treasure the details that link them to the past. There are some key benefits of purchasing an enhanced homeowners policy to address the unique needs of a historic home. 
Complimentary Home Appraisal
When working with a specialized insurance broker or carrier to customize your coverage, a professional appraiser may visit your home to note any special architectural details and interior features, estimate how much it would cost to rebuild your home with the same architectural details in the event of a loss, and offer loss prevention advice. 
Extended Replacement Cost
When you insure your home to 100% of its estimated replacement value, which is not the same as market value, some carriers will offer the benefit of extended replacement cost. This provision would pay beyond your policy limit should the amount at the time of loss not be adequate.
Like Kind and Quality
People who live in historic homes are usually sticklers for detail. If you have a slate roof, you probably would want to find the exact slate to replace lost tiles, not asphalt shingles. Replacing or repairing mullioned window panes, leaded or stained glass, or intricate stone or woodcarving will cost many times more than using mass-produced, modern materials. With specialized coverage, a homeowner would not only get the slate roof tiles that match the old ones, but the insurance company might also help the homeowner find the appropriate slate and, if needed, a contractor trained to install it. 
Rebuilding to Code
While rebuilding your home after even a partial loss, you may be required to follow current, more stringent building codes for anything from electrical wiring to plumbing. This could result in significant additional expense. After a covered loss, an enhanced policy for your historic home would cover these extra costs if you rebuild on the same location. And, if the home is in a registry of historic homes, the insurer will make sure that the home repairs conform to the registry's stringent guidelines.
Extra Features
Specialized carriers offer policies that include loss of use coverage with high limits to provide for temporary living arrangements if you are unable to live in your home during substantial restorations during a covered loss. Policies specially designed for historic homes may also offer higher limits and broader coverage for unique contents often found in historic homes, such as antique furnishings and artwork. 
Expert Advice
Whether you have an 1890s Queen Anne Victorian or an Italian Beaux Arts style home, working with an expert insurance advisor to customize your homeowners policy is the best way to fully protect your distinctive residence. Talk to a MMA PCS Personal Risk Advisor to determine your needs.