Personal Insurance for Professional Athletes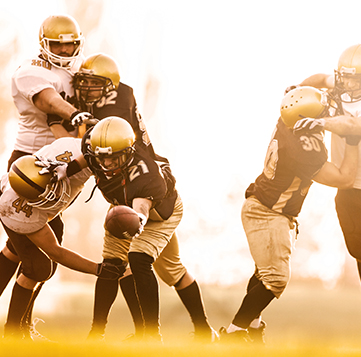 As the world of professional sports has grown into a powerful, multi-billion dollar industry, today's professional athletes, team owners, media personalities, and sport-industry partners have more opportunities to build wealth — and face more risks to their wealth — than ever before.
To help protect their financial stability and address the complex risk management needs of their personal property and casualty exposures, it is crucial that these professional athletes consult with an insurance broker who specializes in understanding and solving for the vulnerabilities that come along with substantial wealth.
More Success, More Risk
Typical insurance programs are not designed to provide adequate protection for the realities professional athletes face, who can quickly outgrow their existing insurance protection as they achieve greater public prominence, increase their income, purchase additional properties and assets, gift assets to family and close friends, and hire assistants and other employees to help them manage their expanding lifestyle.
Any and all of these circumstances can change insurance needs in unforeseen ways and leave the sports figure open to significant loss of worth after an accident, theft or lawsuit. This level of exposure can be addressed with a customized comprehensive personal risk management program that takes into consideration the exceptional nature of their property and assets.
Optimal Coverage
As one's income rises, they are more likely to purchase high-value assets with superior craftsmanship and special features — homes with marble floors, elaborate pools and landscaping, or in-house movie theaters or gyms; valuable collections of jewelry and art; antique or exotic cars; luxury yachts; and even additional properties such as vacation homes, ranches, and vineyards. These assets are often so distinctive that standard insurance policies are unlikely to provide adequate protection in the event of a loss.
Further, professional athletes, like others in the public eye, are more likely to be targets of identity theft, kidnap/ransom or extortion situations, stalking, or home invasion, and are more likely to enjoy extensive travel to international destinations. Again, standard insurers often do not have the expertise or ability to provide coverage and guidance to athletes looking to protect themselves against these uncommon risks.
Marsh maintains relationships with select insurers that recognize the need for expanded, specialized coverage and offer enhanced policies to provide the level of protection needed for these unique assets and lifestyle liabilities. They often include additional services such as access to personal security consultants or background screenings for employees.
Comprehensive Consultation
The varied property and assets of those with wealth typically create incredible complexities that must be navigated with great care when it comes to insurance protection. It's crucial to have an in-depth, thorough consultation with an insurance broker to ensure special situations are properly addressed.
For example, it's not uncommon for professional athletes to purchase cars or even homes for family members. This generosity is admirable, but it's important to be clear about the ownership structure. The more assets under the athlete's name, the higher the liability risk. Plus, if he or she is the owner of the home on paper, but is not the primary resident, there could be insurance implications.
To gain a complete understanding of each client's lifestyle and risk profile, Marsh Private Client Services begins every new client relationship with a confidential, comprehensive personal risk management consultation. We analyze their current insurance program taking into account both present circumstances and future plans. We then create and deliver a holistic set of recommendations for an insurance program explicitly designed for the client.
As a professional athlete's career develops or transitions, so will their insurance needs. Our dedicated Personal Risk Advisors proactively manage the insurance program of each of their clients through ongoing service, regular reviews, personal advice and consultation, and claims advocacy in the event of a loss.
Protecting the properties, assets, and lifestyles of those with wealth and fame requires sophisticated expertise, tailored solutions, strict privacy, and exceptional service that can only be achieved through a trusted advisor relationship with a qualified insurance broker.