Life Events and Insurance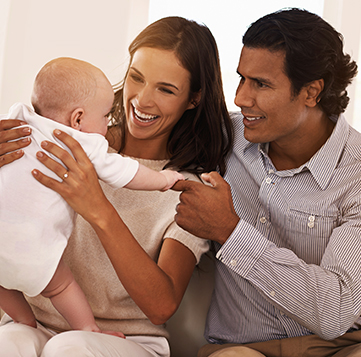 Marriage, a new baby, a teen's first car, a student going to college, retirement — many of life's major events can affect not only your life insurance and estate plans but also your property and liability insurance. While insurance may not be top of mind during these memorable moments, failure to make necessary changes to your policies can lead to uncovered losses. Here, we'll explore some key life events and related insurance concerns.
Marriage and Divorce
Some of the biggest insurance changes happen when your marital status changes. Marriage — establishing a domestic partnership or even just moving in together — usually brings the combination of households, cars, and other property, so you'll want to update your insurance policies accordingly. Are you both protected? Are coverage limits adequate? Will a former residence be unoccupied or rented? Can you consolidate your insurance policies and save money?
You may be able to lower your automobile insurance rates by having your vehicles covered by the same insurer. From a liability perspective, even if only one of you is listed on the title, all licensed drivers in the household must be disclosed to the insurer or you may find yourself without coverage in the event of a claim.
Getting divorced is more complicated on many levels. Insurance needs often change during the separation and again once the divorce decree and property settlement are final. Unless appropriate insurance is in place to protect property and provide liability coverage for both spouses while uncoupling, your marital assets could be at risk.
Birth or Adoption
They say that welcoming a new child into your life changes everything. While having a baby or adopting a child may not directly affect your insurance policies, this addition may prompt life changes that do. Perhaps you need to upgrade your car or renovate your house to add another bedroom. If you decide to hire a nanny, you'll want to conduct a background check and confirm statutory obligations that may require workers' compensation, disability, and employment practices liability insurance to be in place.
As your child grows, you may find that the landscape of your yard changes if you add recreational items such as a play set, trampoline, or even a swimming pool. Many other child-associated lifestyle changes will also increase your liability risks, including car-pooling and volunteering at your child's school or with their recreational activities. Any of these changes should prompt a call to your personal insurance advisor to discuss potential insurance adjustments including increasing your liability limits.
Children Reaching Driving Age or Going to College
After marriage and divorce, probably the biggest change in your insurance situation happens when your child becomes a licensed driver. They have access to a significant asset, i.e., a car, and there is added liability at stake. Teens have a higher risk of distracted driving due to talking on the phone or texting. Taking a safe driving course will help them learn safety precautions and potentially lower auto premiums.
If you are divorced, you'll need advice to determine which parent should list the teen driver on their auto policy. Many insurers expect the custodial parent to list the children, but some insurers require that they be listed on both policies, even if the teen rarely drives the vehicle.
In addition to auto insurance, children heading off to college will benefit from additional property and liability protection depending on their living situation. If your child hosts a party at their off-campus residence, they may be liable if a guest is injured. If you have purchased a residence for them to use at school, you may be responsible for accidents on the property.
Retirement and Aging
With retirement often comes a change in residence. If you have more than one home, this is a good time to let your insurance provider know where you plan to spend your time. Some policies, such as flood insurance, may clearly define primary residential use and a change in occupancy may affect your coverage and premium. If you are no longer regularly commuting to work, you may save on auto insurance premiums. Further, taking a safe driver course can lower rates for some "elderly" drivers as young as 55 years of age.
Losing a family member is never easy and insurance is never the first thing on one's mind at the time. Heirs and executors should speak to their personal risk advisor as soon as it's convenient to ensure that assets are covered and to have insurance policies aligned with the property ownership structure.
Professional Life Changes
If you're a business owner, depending on how your business is structured, your business risks may become personal risks unless you've planned ahead. When buying or selling a company or even going public with an IPO, you'll want to evaluate your personal insurance needs as your lifestyle changes.
Property Insurance – The addition of high-value assets, such as homes, automobiles, or other collections, will call for specialized coverage that can provide adequate protection.
Liability Insurance – Because your current and future income will likely change, it's important to evaluate and probably expand your liability limits.
Directorships – When joining a board of directors, research what directors and officers (D&O) liability protection is provided by the organization and consider obtaining additional coverage on your own.
We've touched on just a few insurance issues at hand during some key life changes. Communicate regularly with your personal risk advisor before finding out your coverage isn't properly structured, or even negated, as a result of those events. They can help you navigate the insurance nuances and provide you with peace of mind.
To ensure you have the proper insurance protection in place for your current lifestyle, contact a MMA PCS Personal Risk Advisor.