Insuring Your Specialty Vehicles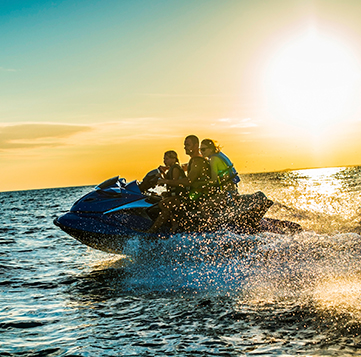 When you buy a new car, purchasing auto insurance to protect it is a natural step. If you own a yacht or private plane, you are likely aware that a specialized insurance policy is necessary to properly address the unique risks associated with such high-end assets. But what about other specialty vehicles such as RVs, motorcycles, personal watercraft, snowmobiles, ATVs, or even golf carts? Big or small, specialty vehicles usually require specialized coverage to properly protect you from financial loss and significant liability exposures.
Recreational Vehicles
From towable travel trailers to custom luxury motor homes, today's RVs are equipped not only with built-in kitchens, bedrooms, and living areas, many include high-tech gadgets and green technology upgrades such as solar panels and other energy-efficient components. For many, RVs are considered a home away from home. Therefore, it is helpful to think about protecting them like a house as well as a vehicle.
RVs typically have limited, if any, coverage under your existing homeowners policy. Insuring them under an auto policy only provides limited coverage, and doesn't take into account the contents you've brought or the variety of situations you might encounter when traveling. Because an RV can be a significant investment with some models exceeding $500,000, it makes sense to have a separate RV policy that will provide coverage for many kinds of losses, whether on the road or parked on your property.
Separate RV coverage will generally have higher limits of liability and offer coverage for various scenarios — think collision, theft, fire, floods, animals, and low branches or overhangs, to name a few. Other features of specialized RV insurance include replacement coverage on the vehicle and personal belongings as well as attached accessories such as awnings and satellite dishes. Many policies offer emergency lodging expenses if you break down away from home, towing, and roadside assistance. Most important, specialized RV insurance can offer you liability protection when the vehicle is parked at a campsite or elsewhere — auto insurance only covers liability on the road.
Motorcycles and Off-Road Vehicles
Driving a motorcycle or off-road vehicle — such as a four-wheeler, utility vehicle, snowmobile, dune buggy, or dirt bike — is much different than driving a car, and in some cases, potentially more hazardous. Knowing how to handle these vehicles takes practice, and although off-road vehicles are not as regulated, in most states,  if you own a motorcycle, a separate license and a separate insurance policy are required.
Being certain of your ability to handle motorcycles and off-road vehicles is critical not only for safety reasons, but also because insurance companies may review your driving record when considering your coverage. Other factors, including frequency and location of use, safety apparel and features, model and year of the vehicle, as well as towing and storage, will all affect the best way to insure your vehicle and protect yourself from significant liability.
Personal Watercraft
Like most of the other vehicles discussed here, coverage for personal watercraft — such as Wave Runners, Jet Skis, and Sea-Doos — is limited under your homeowners policy. For example, if you damage a public dock or injure a passenger or another driver while using your vessel, you may not be covered at all unless you have a separate personal watercraft policy. It will be necessary to talk with your insurance advisor about when and where the craft is used and stored, if you plan to tow skiers or tubes, and who has access to the vessel. Depending on the state, there may be legal age restrictions on who may operate your personal watercraft.
Golf Carts
Whether you're driving around your housing development or moving your clubs from green to green at the golf course, be sure to mention your golf cart to your insurance advisor. If you have an accident while on the golf course, you may have some limited liability coverage under your homeowners policy. However, it may not pay for damages to your golf cart or property. If you use your cart to drive around your community — even if it's not your primary vehicle — you'll need to consider insuring it through a separate policy.
Luxury Yachts and Private Aircraft
For those with much larger toys such as luxury yachts and private aircraft, not only will you need to arrange specific insurance coverage to protect that valuable asset and your legal liability, it's essential to work with a broker with special expertise in these areas.
Luxury Yachts
One of the most lavish and expensive assets to own, these vessels are complex to manage as well as to protect. From the design process, throughout the build, to christening, and on to cruising, many parties are involved. Whether coordinating with the shipyard, your captain and crew, your yacht broker, or your maritime attorney, your insurance advisor should be just as passionate about your vessel as you are. Working with an insurance expert who understands the industry as well as the specialty insurance required, can offer you better risk determination, appropriate solutions, and faster responses. Further, because yacht owners often travel worldwide, you'll want to be able to access assistance 24/7.
Private Aircraft
Whether you own a private jet or a fractional share, flying private is a luxury that creates unique exposures. As with yachts, there are many parties involved in purchasing and operating a plane. Further, with even more strict federal regulations involved, it would be wise to consult with an insurance broker with extensive aviation expertise.
Protect Yourself, Your Specialty Vehicles, and Your Lifestyle
For most of these specialty vehicles, insurance regulations vary by state, with some jurisdictions mandating coverage regardless of use. If you own any of these specialty vehicles, occasionally rent one, or are thinking about purchasing one, be sure to talk with your Personal Risk Advisor about the best way to protect yourself so you can enjoy the adventure without worry.
Insurance brokers often do much more than just place insurance. Communicating with your insurance advisor about new asset acquisitions — whether it be a new yacht, aircraft, home, jewelry, car, or piece of art — as well as changes in your life, will help you discuss the most appropriate way to protect yourself, your property, and your lifestyle.