Fire Safety at Home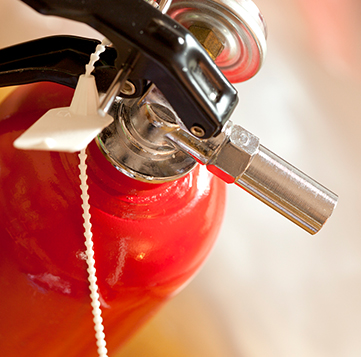 We were all taught as children not to play with fire, and there is a very good reason for that lesson. The National Fire Protection Association (NFPA) reports that firefighters respond to a fire every 23 seconds, with responses to home structure fires every 86 seconds.
In 2016, Marsh McLennan Agency Private Client Services clients filed house fire claims in excess of $25 million in losses. To help protect your family and your property, it is important to avoid known causes of fire, install proper fire detection and prevention in your home, and practice your family escape plan, so you know what to do in case of a fire emergency.
Top Causes of Home Fires
Take special precautions with these items, which are listed by the NFPA as top causes of home fires:
Cooking – Cooking equipment is the leading cause of home fires, igniting 46 percent of all home fires, with ranges or cooktops accounting for 62 percent of home cooking fire incidents. The most home fires are reported on Thanksgiving Day, with three times as many occurring as other days of the year.

Candles – Candles caused three percent of reported home fires, with as many as 25 candle fires reported daily. The top three days for home candle fires are New Year's Day, Christmas, and New Year's Eve.

Electrical – Fires caused by electrical malfunction produce $280 million in property damage each year. The bedroom is where most home fires involving lamps, light fixtures, and light bulbs start.

Heating – More than half of all home heating fire deaths occur when flammable objects such as furniture, clothing, or bedding are too close to heating equipment.

Smoking – The risk of dying in a home fire caused by smoking materials increases with age. Almost half of all fatal home smoking material fire victims are age 65 or older.
Fire Detection
Important safety measures should be installed in your home to help detect fires and potentially save lives. You may even qualify for insurance premium discounts by having some of these items in your home.
Smoke Detectors
Smoke detectors can lower your risk of dying in a fire by nearly half. They sense abnormal amounts of smoke or invisible combustion gases in the air, alerting you with a localized alarm noise. They should be installed according to local building codes, which generally recommend smoke detectors on every level of the home, outside each sleeping area, and inside each bedroom. If you have battery-powered smoke alarms, the batteries should be replaced at least once a year. The smoke alarm itself should be replaced every 10 years.
The National Fire Alarm and Signaling Code (NFPA 72), which may have been adopted by your local governing authority, requires new homes to have smoke alarms hard-wired and interconnected, with a battery backup, on every level of a home. Being wired together allows the alarms to trigger one another, so if one alarm goes off, they all go off.
Central Station Alarms
Central station alarms look and perform much like a battery-powered smoke detector, but when these alarms detect smoke, the system will automatically notify a monitoring company. An added benefit of these systems is they often come with home security and burglar alarm protection.
Fire Extinguishers
Consider having one or more fire extinguishers in your home. They should be kept high on the wall or other area where only adults can access them, near an exit, and away from heat sources. Learn how to use the fire extinguisher before an emergency happens. There may not be time to read directions while an active fire is burning in your home. Also, check on the Consumer Product and Safety Commission website to make sure your fire extinguishers were not recalled.
Home Sprinkler Systems
Home sprinkler systems can greatly minimize damage to your home. The average property loss per fire is almost 70 percent less in homes with sprinklers versus homes without sprinklers. Smoke alarms are designed to detect a fire, but home sprinkler systems will help control the fire. They help keep the fire from spreading and can even extinguish it completely, decreasing the chance that deadly smoke and gases will reach you and your family. Sprinklers will put out a fire even when you are not home, and should be connected to your central station alarm system.
There are many misconceptions when it comes to home fire sprinkler systems:
Smoke alone will not cause the sprinklers to go off. Only extreme heat from a fire will trigger the sprinklers.

Only the sprinkler(s) closest to the fire will start. Each sprinkler is independent of the others in your home, so if one goes off, it does not trigger the others to go off.

Experts agree that the water damage is a minimal cost compared to the smoke, fire, and structural damage a fire has the potential to cause.

Some may consider cost as a reason not to install a home sprinkler system, but in reality the average cost is a small investment.
Specific precautions should be taken during construction or if you are renovating your home. See our article on Protecting Your Home During Renovations and Construction for more information.
Smart Home Fire Detection and Prevention
Have you ever left your home for work and then wondered if you left the iron or other small appliance on? Or the stove? These are potentially dangerous situations that could start a fire in your home. But new smart home technology can help give you peace of mind and keep you and your family safe.
Consider installing smart outlets, which allow you to turn off items that are plugged into them through an app on your smartphone. Smart stove tops have a motion sensor that detects when you are not at the stove for a set period of time and automatically turns off the burners.
Your lawn sprinkler system can even be turned into a means for fire prevention. These smart sprinkler systems can be notified of a fire by the indoor smoke alarm. The damp lawn can act as a barrier to slow and possibly help prevent the spread of fire to other buildings on your property or even your neighbor's home.
There are also smart home options for traditional fire safety equipment. Smart smoke detectors link to an app on your smartphone, sending you alerts when the smoke detectors go off. This is helpful when you are not at home, but if you are home, it allows you to turn off false alarms directly from your phone. If you have traditional smoke alarms, there are devices you can plug into an outlet that will "listen" for the specific frequency of smoke detectors and notify you through a smartphone app if your smoke alarms go off.
You can also purchase smart batteries for your smoke detectors that will send an alert to your smartphone if your alarm goes off. The batteries will also notify your smartphone when they are low, eliminating those annoying chirps to remind you the batteries need to be replaced.  
Practice Your Family Escape Plan
Early warnings from smoke detectors paired with a practiced fire escape plan can help keep your family safe if there is a fire. The NFPA recommends practicing your family escape plan twice a year.
Each family member should know two ways to escape from every room in your house.

If your home has two floors, escape ladders can be installed near windows to provide an additional escape route.

Check to make sure doors and windows can be opened easily.

Make sure someone is assigned to assist infants and anyone with a disability.

Decide where to meet once you get outside. Once you are out, stay out.

Once you are outside, dial 911.
If smoke or fire prevents you from being able to escape, practice "sealing yourself in for safety" as part of your home fire escape plan. Close all doors between you and the fire. Keep smoke from entering the room by using duct tape or towels to seal the door cracks and air vents. If possible, open the windows at the top and bottom so fresh air can get in. Wave a flashlight or white cloth out the window to let the firefighters know where you are.  
In the unfortunate event a fire does start in your home, you may have as little as two minutes to escape. Implementing these fire detection and prevention measures, along with practicing your family escape plan, can help save lives.
Resources
nfpa.org
redcross.org