Yacht Hurricane Preparedness Tips During COVID-19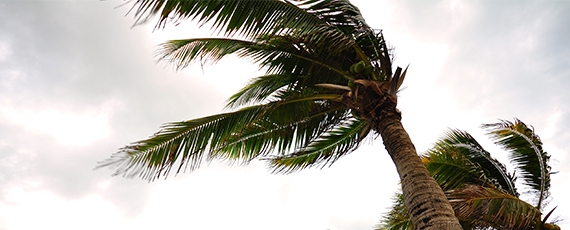 In the midst of a global pandemic, many yacht owners and businesses within the yachting industry have felt the effects far and wide. The challenging conditions presented by COVID-19 along with predictions for an above-average active hurricane season creates a unique environment, and now is the time to prepare.
Although shipyards are beginning to reopen, governments continue to have travel restrictions on foreign vessels, necessitating changes to many planned itineraries. Many yachts that planned to be in the Mediterranean for the summer months are making alternate plans. In addition, some yacht owners face challenges with fewer crewmembers on board as some crew have returned to their home country and may still not be able to travel.
As yacht owners face these realities, reviewing and updating hurricane preparedness plans is necessary.  Consider the following tips when preparing for the upcoming hurricane season:
Update your severe weather plan. Identifying where to secure your boat is key to your hurricane preparedness plan. Consider your options based on several potential storm intensities and tracks.

Determine whether your vessel will be hauled, secured in a marina or private berth, or moved to a safe predetermined location.
Locate hurricane moorings in advance and obtain permission for use from the appropriate authorities.
Make a practice run to check accessibility, depth of water, bridges, location of aids and/or obstructions to navigation.
As a Storm Approaches
Monitor weather broadcasts frequently. Windstorms can develop and make landfall very quickly. It is imperative to utilize the time available to prepare your vessel.
Charge batteries and make sure they can run automatic bilge pumps throughout the storm.
Double all lines to prevent chafing and wrap lines where they feed through chocks. Secure all fenders to protect the boat from anything surrounding.
Consolidate all documents including insurance policies, boat registration, equipment inventory, lease agreements, and telephone numbers of appropriate authorities. Keep the documents in your possession in a locked waterproof box.
Remove as many personal effects from the vessel as possible. Create and maintain an inventory of all items still onboard and those removed.
If your boat is in a marina, learn their plan, give them a copy of your plan, understand your responsibilities, and share both plans with your insurance advisor.
Do not stay onboard the vessel, doing so endangers your life.
The most important part of hurricane preparedness is ensuring the safety of yourself and your loved ones. As far as protecting your vessel, the Marsh McLennan Agency Private Client Services Yacht Practice can help you gain peace of mind knowing you have a specialized insurance program in place.