When Wildfire Threatens: Strengthen Your Defense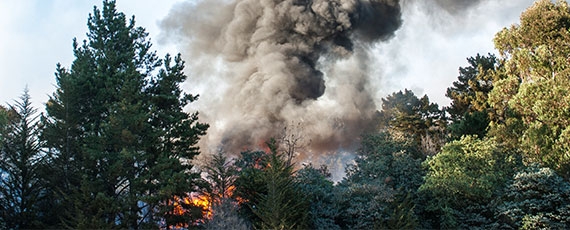 Homeowners in wildfire-prone areas across the US are likely all too familiar with the damage and destruction wildfires can bring. If you are in the market for a new home or considering a new insurance program, it's important to understand your options and the wildfire coverage nuances between insurers, which have been changing as a result of the numerous fires in recent years. Further, guidelines for insuring homes susceptible to wildfire are becoming more stringent, and insurers are becoming increasingly more selective about the homes and areas where they will write business. Consider the following coverage variations within the insurance marketplace.  
Wildfire Deductibles and How They Apply
Most homeowners insurance policies include a standard deductible that may also apply to wildfire losses. Some insurers offer policyholders the option to choose a larger wildfire-specific deductible that would typically lower your premium. Other carriers require a wildfire-specific deductible in order to provide coverage terms for a home in a high-risk area, similar to hurricane or wind deductibles required in certain states. These deductibles can be a fixed dollar amount or a percentage of the dwelling value or of the home's total insured values, and will most likely be significantly larger than the standard deductible.
Additional Living Expenses / Loss of Use
It is important to understand how your Additional Living Expenses (ALE) or loss of use coverage works in relation to wildfire-related events. Most insurers do not require actual property damage for ALE coverage to apply when there is a mandatory evacuation in advance of a wildfire, but some do. Similarly, some insurers require the policyholder to meet their deductible before ALE coverage kicks in, while others do not. Underwriting restrictions may also be placed on loss of use coverage for a wildfire-exposed property.  This can include a limitation on the dollar amount of the coverage or the complete removal of loss of use coverage in a non-preferred market.
Landscaping/Hardscape Coverage
Coverage for landscaping and hardscaping may exclude damage due to lightning and wildfire. Some insurers specify what types of landscaping materials are acceptable and not acceptable on an insured property. For example, one insurer discourages the use of juniper bushes and Italian cypress trees, both known to be highly flammable, within 10-30 feet of all structures. Some insurers also recommend the removal of wood mulch.
Large-Loss Deductible Waiver
For insurers who offer a large-loss deductible waiver, wildfire has traditionally been included as an eligible peril for a deductible waiver in the event the loss is more than $50,000. One insurer just announced they are no longer including wildfire as an eligible peril for their large-loss deductible waiver, but many insurers still offer this beneficial policy feature.  For insurers who require or offer a wildfire deductible, this is considered a Special Deductible and therefore not eligible for the large-loss deductible waiver.
Mitigation Strategies
Along with having appropriate insurance coverage for wildfire exposures in place, homeowners in wildfire-prone areas should harden (prepare) their homes in case of a fire. Taking steps to harden your home can help increase its likelihood of survival if a wildfire strikes. Some examples of home hardening include installing ember-resistant vents and exterior fire sprinkler/suppression systems.
Ember-resistant vents are designed to prevent flying embers from entering a home through eaves and vents, which is one of the most common ways a structure fire starts during a wildfire. Ember-resistant vents are now part of the building codes in California because of their effectiveness in preventing fires. 
Exterior fire sprinkler/suppression systems are designed to prevent or minimize damage during a wildfire. Multiple options exist, including exterior sprinkler systems that can be activated manually or remotely through an app. These systems spray water, fire-resistant foam, or a combination of both to protect homes from an active wildfire.
Review additional home-hardening recommendations from CAL FIRE. 
Wildfire Defense Programs
Most premier insurers offer some type of wildfire defense program or similar benefit for policyholders in wildfire-prone areas. This is a complimentary benefit for the policyholder, so make sure you enroll if your insurer offers it. Some insurers ask clients to opt-in so they can gain permission to access the property if needed. Generally, insurers need contact information for the homeowner and the gate code or a lockbox, if applicable. This service typically provides resources during a wildfire to help mitigate risk at the homeowner's property. This may include moving flammable materials away from the home, setting up temporary sprinkler systems, or spraying a fire retardant onto the home if it is in serious danger of wildfire damage. 
Expert Recommendations and Professional Advice
In addition to defensive mitigation efforts during an actual wildfire, most insurers also provide special inspections to help homeowners with risk mitigation recommendations specific to their home and property. Regular upkeep of a home and property is the most effective defense against wildfire.
If you are considering purchasing a home in a wildfire-prone area or are looking to switch insurers, consult with your personal risk advisor first. Securing homeowners coverage isn't always guaranteed, even if the previous owner had a policy in place or if you had no problem obtaining coverage in the past.
Your personal risk advisor can share additional wildfire risk management best practices and go over the available insurance program options that may best meet your needs.