Travel Tips for Your Next International Trip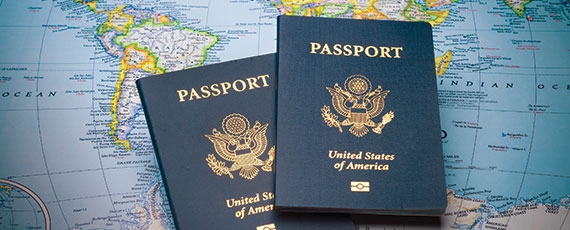 If your summer vacation plans include a trip abroad, there are steps you can take to ensure your trip goes as smoothly as possible. Consider the following tips that can make for a safer vacation and less inconvenience if something unexpected comes up.
Before You Go
Educate yourself on your destination. Research specific visa requirements, local laws, unique customs, and medical care in the countries you are visiting in advance. Online resources such as travel.state.gov offer helpful information about many of these topics.
Be aware of any travel warnings or alerts for your destination country. Check the website of the U.S. embassy or consulate where you will be traveling for the latest security messages.1
Find out about health precautions. The U.S. Centers for Disease Control (CDC) and the World Health Organization (WHO) provide recommendations for vaccinations and other travel health precautions for your trip abroad.
Check with your bank and credit card companies about policies for replacing ATM and credit cards at your destination. Some issuers can replace the cards within 24 hours — others will only send replacement cards to your home address, which will not help you if you're away.
Create a list of emergency phone numbers in a separate place from your credit cards. You should include information for these contacts:

U.S. embassy or consulate in every country you will be visiting, in case you lose your passport.
Emergency numbers for reaching your bank and credit card issuer from wherever you will be. Note that U.S. toll-free numbers may not work from abroad.

Be aware of the crimes that are most likely to impact world travelers. Read about the top four crimes in this article by security risk management provider Hillard Heintze.
Prepare your home for your time away. Here are five helpful reminders.
Check with your insurer, credit card companies, and travel agencies about travel insurance options.
At Your Hotel
Make sure the desk clerk at the hotel doesn't say your room number aloud. If they do, consider asking for an alternative room as a precaution.
When you get to your room, check to make sure all the windows and door locks are functioning. Know where fire exits and fire extinguishers and alarms are located.
Place valuables in your hotel room safe or with hotel security.
In a Vehicle
Talk to your insurance advisor about how your personal insurance will respond if you are in an accident, or if you need to purchase coverage through the rental agency.
When renting a vehicle, make sure the vehicle is in good working order with a proper spare tire. Be sure to ask the rental agent for the emergency number for the local police as a precaution in case of an accident or if you get lost.
If you are stopped for a traffic violation, ask to call the local consulate or embassy. Sometimes these stops are scams. If the authority insists on a payment immediately, make sure you get a proper receipt.
By taking these precautions, you can plan for a relaxing vacation spent making new memories and exploring new places with peace of mind.
References
1 U.S. Department of State, Bureau of Consular Affairs