Three Risky Yacht Insurance Assumptions to Avoid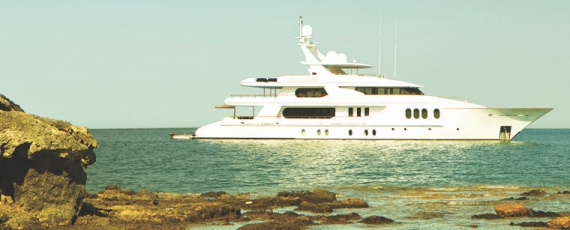 Most yacht owners understand the importance of having specialized insurance protection for what is likely their most expensive asset. However, having met with owners and captains of many of the world's largest yachts, I've noticed a few common insurance pitfalls that most were unaware of before working with us. Here are three risky assumptions about yacht insurance that could end up creating a costly gap in coverage or negating your coverage altogether in the event of a loss:
1. The shipyard will be responsible for any damage they cause to my yacht. When bringing your yacht into the yard for maintenance or repair work, be sure to review the contract in detail before signing. These contracts often include a "hold harmless" clause or a waiver of rights that could potentially void your insurance policy or interfere with the insurer's rights to subrogate after settling your claim.
If your yacht were to be dropped on the haul out or to catch fire during hot work, coverage could be negated if your insurer did not approve the hold harmless and contractual liability clauses before you signed the shipyard contract.
Talk to your insurance advisor about how the yard contract may affect your coverage before moving forward with any repair or maintenance work. If your captain generally takes care of repair matters, make sure they understand what is at stake and ask to personally review the contract before signing.
2. My protection and indemnity policy includes enough pollution liability coverage. Most yacht owners have a protection and indemnity (P&I) policy that includes some level of pollution liability coverage. However, for the vast majority of vessels, those limits are not enough. Even relatively small pollution spills – such as an overfilled fuel tank that spills into a harbor – can cause significant damage that is difficult and expensive to clean up.
Purchasing a separate pollution liability policy can provide additional coverage not available in the P&I policy, such as regulatory or environmental impact fines, legal fees, and more. Specialized insurers often include extra services such as spill response and environmental mitigation.
3. My personal excess liability policy covers crew members. Coverage and liabilities at sea are very different than on land, and separate insurance policies are written to address these nuances in accordance with Maritime Law. If a crew member were to be injured or fall ill while working in service of the yacht, a personal excess liability policy may not respond. Instead, separate P&I and crew medical policies are necessary.
It's important to communicate with your insurance advisor about your yacht insurance coverage as well as the rest of your personal insurance program. Working with an insurance broker who understands how these policies work together will align your coverage and help you avoid costly misunderstandings.