Summer is Here! It's Time for Fun in the Sun…and Liability Risks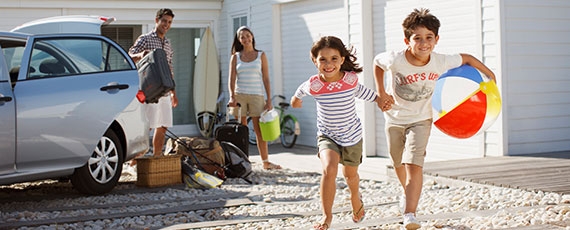 The season for relaxation, travel, and outdoor activities has arrived, and along with it, an assortment of risks. Let's take a look at some of the obvious as well as some more unassuming liability exposures to consider.
Swimming Pools
The inherent risks of a swimming pool are clear: physical injury and drowning. But, did you know that if you own rental property, you could be held liable for a loss involving a tenant? In Georgia, a homeowner provided the use of a vacation home for one week as a prize for a charity event. During their stay, the winning family's three-year-old child wandered through an open gate and drowned in the swimming pool.  Because the state's building code requires self-closing gates leading to swimming pools, the homeowner was held liable for the fatality, and the homeowners policy tendered a substantial settlement.
Luggage
As a frequent traveler, I have had my fair share of lost luggage, which has typically arrived eventually. So, what happens when a bag never arrives or when items have been stolen from within? Most personal items would be considered contents under a homeowners policy and subject to the policy deductible. The airline may provide limited coverage, but my experience has taught me that their offer is usually more offensive than the loss of the items. The credit card used to book a flight may provide some coverage, but it is often a reimbursement of expenses related to replacing lost items, not for the lost items themselves. However, regardless of value or reimbursement, for the purpose of documentation, all losses should be reported to the airline even if they do not cover the loss.
Rental Cars
Damage to a rental car is a common loss, but every rental agency is different in how they handle a damage claim. If you are renting a vehicle, there are a few options for insurance coverage:
Optional insurance coverage through the rental agency. (In some countries, renters must purchase coverage from the rental agency.)
Your automobile policy, as long as it lists worldwide coverage for rental vehicles.
Limited coverage through the credit card company used to pay for the rental.
Before a scheduled trip, it is advisable to speak with both your personal risk advisor to double-check the coverage available through your auto policy as well as your credit card company. Most credit cards will cover the deductible but not always the entire loss. Some rental companies are painfully slow in processing claims, which may leave a loss looming for months before the actual value is known.
Liquor Liability
The saying that liability follows you is particularly true when hosting parties, events, or even small get-togethers at your residence. Host liquor liability laws imposed by many states typically hold the homeowner liable if there is an accident related to a guest that was served alcohol at your residence. You may be protected from criminal liability, but a civil suit may still be served. And even if you are ultimately not held liable for the actions of a guest, it is still unpleasant to endure years of litigation. In addition to liability coverage, it's imperative to be a responsible homeowner – always be aware of who is on your property and what activities are occurring.
Domestic Staff
If you will be traveling for an extended vacation and plan to have staff remain on-premises to serve the household, it is unfortunately a more likely time for slip-and-fall losses and theft to occur due to a lack of supervision. The best form of prevention is vigilance and due diligence. It is critical to conduct background checks on all staff before hiring. Use security cameras in and around your home. And ask a neighbor to keep an eye on the comings and goings on your property, or a friend to stop by and check-in while you are away.
The Benefit of an Advisor
These common loss scenarios shouldn't interfere with your summer fun. Taking the time to talk with your personal risk advisor to make sure you have appropriate liability coverage in place will allow you to enjoy the season without worry.