Specialty Vehicles: Reduce Risks with the Right Maintenance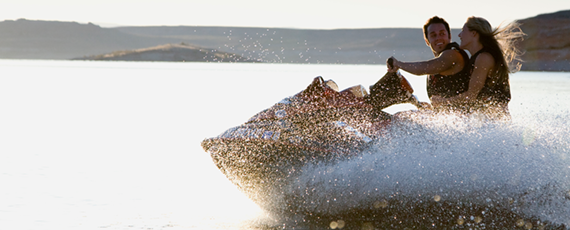 New seasons often bring changes in the utilization of specialty vehicles. As warmer weather sets in, owners of motorcycles, scooters, recreational vehicles, and personal watercraft may look to bring those items out of storage. On the other hand, owners might be ready to store their snowmobiles, all-terrain vehicles, or other motorized specialty vehicles until next winter. To protect specialty vehicles and mitigate safety risks, owners should take care to perform maintenance and prepare their vehicles, whether they're going into seasonal storage or back into service.
When the time comes to store a specialty vehicle, maintenance and storage steps can vary depending on the kind of vehicle, its engine type, and features. A gasoline-powered specialty vehicle, for example, has many of the same maintenance needs as an automobile. Battery-electric powered vehicles, however, have somewhat different maintenance considerations.  Owners of specialty vehicles should consult the manufacturers' instructions for specific maintenance requirements and contact qualified service professionals when necessary.
In general, owners and operators should inspect their specialty vehicles before and after use, looking for items that may need repair, replacement, or special attention. Such items one can look for include:
Tires and Track
On wheeled vehicles, tires are often the only points of contact with the road or trail. Underinflation, worn tread, and embedded objects can cause loss of traction or punctures, which can make the vehicle unsafe to operate. Tires in vehicles such as dual-sport motorcycles, all-terrain, or utility-terrain vehicles that can go on and off road may vary greatly in their service life. Usually, paved roads will wear down tires more quickly than traveling on grass or dirt. Some specialty vehicles, such as snowcats, have tracks made of rubber, aluminum, or steel that fit over wheels. These tracks and their wheels should have regular inspections.
Brakes
With specialty vehicles, a lot of fun comes in going places—fast. Eventually, though, operators of specialty vehicles must apply the brakes. Safe enjoyment of specialty vehicles requires that braking systems be in good working order. Checking and inspecting brake fluid, rotors, pads, and other components of the brake system should be done regularly.
Moving Parts
Cleaning dirt and debris from moving parts on specialty vehicles is important for safe operation and should be performed before storage or use. Manufacturers may recommend lubrication of moving parts such as chains, bearings, and other mechanical features, as well as changes of engine and/or transmission oils, at regular intervals or require them under warranties.
Lights and Lamps
Specialty vehicles designed for use on public roads typically have headlights, taillights, and turn signals, while some watercraft may have bow and stern lights. Making sure these lights work is important to comply with applicable laws as well as operator safety.
Filters
Replacement of air, fuel, and oil filters is a good idea, if a specialty vehicle requires them, before putting the vehicle into storage or returning it to service.
Pipes, Seals, and Gaskets
Inspecting specialty vehicles for leaks is an important step in regular maintenance. Making sure that pipes, seals, and gaskets are working properly is a good way to prevent leaks, environmental damage, and costly mechanical failures. Draining water before storage can be important to prevent ice formation, which can burst pipes and damage components in recreational vehicles, among other specialty vehicles.
Fuel
Gasoline-powered specialty vehicles may run perfectly well on fuel that includes ethanol, or ethyl alcohol, but storing them with that fuel blend in their tanks can cause problems. Ordinary gasoline has a shelf life of up to six months, but gasoline mixed with ethanol has a shorter lifespan—three months or less. Most gasoline sold in the U.S. has about 10% ethanol and 90% petroleum-based fuel, according to the U.S. Energy Information Administration. Ethyl alcohol absorbs water, which can corrode or degrade internal engine parts. For storage beyond a couple of months, specialty vehicles should have their fuel tanks empty, filled with non-ethanol gasoline, or use fuel stabilizers. Following the manufacturer's recommendations is advisable.
Batteries
An increasing number of specialty vehicles, from golf carts to scooters, run on electric power instead of gasoline. Unlike automobiles, electric golf carts typically have deep-cycle, or wet, batteries that require large quantities of distilled water to perform properly. Battery maintenance includes checking for and removing corrosion on terminals and other equipment exposed to battery acid. For long-term storage, it's a good idea to disconnect the battery.
Insurance Considerations
In addition to the above, one other element is a good idea to maintain: adequate insurance. Marsh McLennan Agency Private Client Services works with leading insurance carriers that provide flexible coverage for specialty vehicles. Besides keeping specialty vehicles in good shape and ready to use, the right risk management can give owners of these vehicles peace of mind as they forge their own paths of enjoyment.
For more information on specialty vehicle risk management, please contact your Marsh McLennan Agency Private Client Services personal risk advisor.