Specialty Vehicles: Mitigating Physical Damage Risks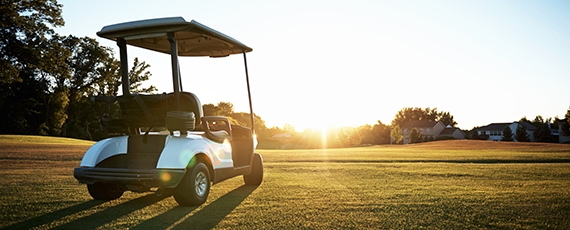 Specialty vehicles were growing in popularity even before the global pandemic, when sales surged as people sought recreational outlets in wide-open spaces. As more specialty vehicles – including golf carts, motorcycles, scooters, recreational vehicles, all-terrain vehicles, and personal watercraft – appear on roads, trails, and waterways, owners, and operators need to stay aware of the risks of physical damage.

If there is one common characteristic among specialty vehicles, it is the niche market's variety. There are vehicles for a dizzying array of uses, tastes, and budgets, many with customizable options. As specialty vehicle owners add more expensive features, however, their exposure to physical damage losses rises.
Here are some snapshots of specialty vehicle segments and how they're trending:
Golf carts. The global market for golf carts is estimated to grow between 2021 and 2026 at a compound annual growth rate of almost 6%, with personal use the fastest-growing application. Adding to their appeal is the availability of carts powered by electricity and solar power.1 Carts range in value according to their design and features. A basic two-seater might cost a few thousand dollars, while one seating four or more, with a sunroof and resembling a vintage automobile, might exceed $20,000.
Some carts have headlights, taillights, and turn signals, and can be driven on public roads as a low-speed vehicle (LSV) under 35 mph. Physical damage risks increase when a golf cart is sharing the road with much-heavier vehicles.
Motorcycles and scooters. Sales were flagging before COVID-19 hit, then they got a huge boost. Demand for smaller engines and electric-powered two-wheelers is surging. Sales of high-performance electric motorcycles are projected to rise 35% a year between 2020 and 2024.2 Interestingly, several motorcycle manufacturers are rolling out electric bicycles, which can go up to 20 mph (and some go even faster), as a way to attract potential buyers who'd like to explore motorcycling but aren't yet ready for a full-size machine.
Recreational vehicles (RVs). Towable RVs and motorhomes had a near-record year for sales in 2019, a great year in 2020, and 2021 sales are forecast to be a record, with more than 507,000 units shipped to date, according to the RV Industry Association.3 Buyers age 35-54 are the largest segment of RV owners, and more than 9 million US households own one, the highest number ever recorded, up 16% since 2001.
All-terrain vehicles and utility terrain vehicles (ATVs and UTVs). This market, like that of other specialty vehicles, also is fast growing. By 2025, the global ATV/UTV market is forecasted to reach $14.1 billion, nearly double its size in 2017.4 UTVs are desirable for their cargo carrying capacity across rugged terrain. ATVs are used mainly for recreational purposes, and several countries have organized racing competitions.
Personal watercraft. The U.S. has 1.2 million registered personal watercraft (PWCs), about 10% of all boats. PWCs have jet propulsion, are no longer than 13 feet, and can carry up to three people, according to the Personal Watercraft Industry Association. Common uses of PWCs include family recreation, sightseeing, fishing, and tubing.
Tips for Mitigating Physical Damage
Owners, operators, and passengers in specialty vehicles should be aware of the possibility of damage whenever they take their vehicles on the road, off the beaten path, and when the vehicles aren't in use. Operators of specialty vehicles should consider the following tips to mitigate the risk of physical damage, no matter where they intend to use the vehicles:
Obey the rules of the road. Every jurisdiction has different laws that apply to golf carts, motorcycles, and other specialty vehicles. Operators have a responsibility to know and follow the rules of the road, particularly when using them on public roadways.
Ensure operators are qualified. Some specialty vehicles are only intended for adults and adolescents with valid driver's licenses. A lack of experience or inability to safely operate a specialty vehicle can cause needless injury, death, or property damage.
Know the lay of the land (or sea). A motorcycle tour on a winding mountain pass can be exhilarating, as can going off-road and blazing one's own trail in the wilderness, or piloting watercraft to a deserted isle. It's important for the operators of specialty vehicles to know the features – and geographic hazards – of the areas where they plan to go.
Select parking and storage sites carefully. Storage locations and local weather conditions may increase the risk of physical damage to specialty vehicles. For example, a tree or heavy limb that falls on an RV or ATV during severe weather could cause extensive damage.
Explore insurance options
Maintaining adequate insurance for specialty vehicles is a good idea. Marsh McLennan Agency Private Client Services works with leading insurance carriers that provide flexible coverage on a stand-alone or bundled basis. The right risk management can give owners of specialty vehicles peace of mind as they forge their own paths of enjoyment.
References
1 "Golf Cart Market Research Report," StratView Research
2 "Global High-Performance Electric Motorcycle Market 2020-2024," Technavio, December 23, 2020
3"Survey in RV Shipments Projected Through 2021," RV Industry Association
4 "ATV & UTV Market Size is Projects to Reach USD 14,109.2 Million By 2025," Valuates Reports, August 20, 2020