Purchasing a New Home in California – Insurance Considerations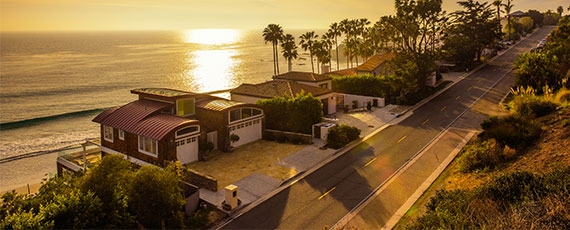 Guidelines for insuring homes in California are becoming more stringent, and insurers are becoming increasingly more selective about the homes and areas where they will write business. Here are some points to consider when shopping for your new home. Following these guidelines may help you to choose a home that has a higher likelihood of qualifying for competitively priced homeowners insurance with the superior coverage you want.
Adequate Access and Clearance – Homes with brush exposure are the most difficult to insure due to the increase in wildfires and high insurance losses in the last few years. In areas with high brush exposure, look for homes with multiple ways to access the property, a fire department within close proximity, and at least 150 feet of brush clearance and managed landscape vegetation around the home. 
Retrofitting for Older Homes – Homes built prior to 1945 will typically be required by insurers to have proof of earthquake retrofitting, which can be difficult to prove and generally comes at an additional cost. A few insurers are beginning to also require proof of earthquake retrofitting for homes built after 1996, when additional code requirements were implemented to provide better bracing and structural support for new homes. For insurers that require the more stringent earthquake retrofitting, older homes may not be eligible unless the owner can provide documentation, such as permits or work orders, showing it was completed. If purchasing a home built 1996 or earlier, it may be beneficial to ask the current owner for any documentation they can provide in regards to updates to the home.   

Avoid High-Risk Areas – Los Angeles County has the most limited insurance capacity and the strictest underwriting guidelines of any California county at this time. Homes near brush with limited access to the property, such as a home at the perimeter of a neighborhood or on a cul-de-sac, are difficult and costly to insure. In addition, any areas that have suffered a wildfire in the past two years will be challenging when attempting to insure a new home purchase.
Consider Other Loss History – Insurers are also concerned about home losses that aren't weather-related or caused by a natural disaster. Water and plumbing issues are a frequent and costly type of home loss, so it is important to ensure that a home does not have a history of water losses, or in an older home, that the plumbing has been updated with documentation on file. An automatic water shut-off device that is tied into the alarm system is also preferred (and sometimes required) by insurers and is a good failsafe to limit the damages in the event of a water loss.
Look for Fire-Safe Roofing – Homes with wood shake roofs are generally not acceptable under insurer underwriting guidelines due to the increased fire hazard in the event of a wildfire. Roofs made out of a non-combustible material are preferred, as are homes with flame- and ember-resistant vents. Some insurers will offer premium discounts for these features.

Research the Flood Zone – Beware of homes located in A or V flood zones. If your dream home is located in one of these zones, obtain a copy of the Elevation Certificate from the current owner to ensure that the home is positively elevated at or above the base flood elevation for the location.  Negatively elevated homes are very difficult to insure.
Consult with Your Personal Risk Advisor
Even if an insurer covers your existing home, your new home will still need to meet that insurer's current underwriting guidelines. Prior to putting in an offer to purchase a new home, make sure to discuss the property with your insurance broker to determine whether there may be obstacles in obtaining insurance and, if possible, obtain a quote to estimate your potential homeowners insurance premium. Planning ahead will help avoid challenges later.