Planning to Loan or Gift Art?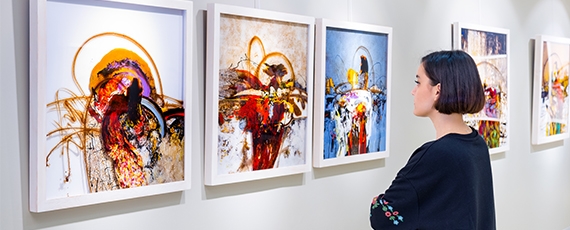 Successful clients often acquire impressive collections of valuables — from jewelry, watches, and art to heirlooms or antiques, fine wine, or collector vehicles. In our 2021 Family Office Benchmarking Study, we found that more than 69% of family office clients own a significant collection of some sort, and the most common type of collectible is fine art (91%).
Within art collecting families, loaning or gifting artwork to an institution is a fairly common practice as seen in 26% and 13% of the families surveyed, respectively. These generous activities have different insurance implications to be considered.
Art on Loan
Lending art can benefit both the owner and the institution — the museum gets to exhibit a work that is not often in the public eye, and the object may become more valuable for being part of an important exhibit, adding to its provenance. Within the agreement with the institution, it is important to outline who will handle the insurance. Sometimes the art owner manages it, sometimes the institution places the coverage, and sometimes it is a dovetail combination depending on the needs of both parties and the insurers involved.
The Gift of Art
Gifting artwork is a different matter as there are many more variables to consider including valuation, tax implications, and insurance. Does the value of the asset transfer to recipient or institution at a certain point in time or immediately? If the owner plans to gift the piece upon death, but the value has already transferred to the institution, who is responsible for insuring it? And, does one insure for purchase price or is it incumbent upon the policyholder to make sure valuation is current?
Because of these scenarios and more – including storage and transit incidents, which account for a vast majority of art losses – it's important to consider how the items will be insured when loaning or gifting artwork.
A Valuable Investment
The overall value of a collection may represent a significant portion of a family's net worth, and in such case, it represents an asset class that deserves to be treated as part of their overall investment portfolio. Collections require appropriate insurance solutions that take into account their special nuances, including rarity and changes in valuation, which may be affected by loans or gifts.
In addition to your financial or tax advisor, talk to an insurance advisor with fine art expertise to help ensure your investment is protected. To learn more about this as well as other family office insurance trends, download our 2021 Family Office Benchmarking Study.