Meet the New Faces of Collector Cars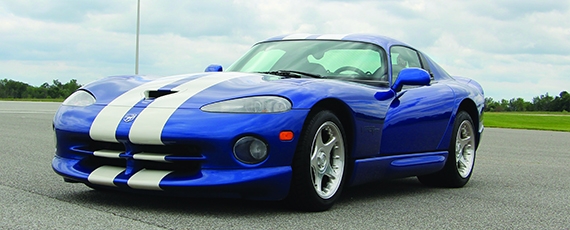 1996 Dodge Viper GTS
Photo credit: ©2020 Courtesy of RM Sotheby's
Each generation of car collectors chases after the icons of their era, the models they idolized when they were younger. For the first wave of car collectors, that was 1928 Duesenberg Model Js. Later, it shifted to 1949 Jaguar XK120s, 1957 Ford Thunderbirds, 1966 Ferrari 275 GTBs, 1970 Chevrolet Chevelle 454s, and then 1973 Porsche 911 Carrera RSs.

Now, as younger Generation X and older millennials have entered their prime earning years and are able to afford the cars they loved as youths, they are repeating the same pattern in ever- growing numbers. And the models on which they have their sights set are now surging in value and influencing the collector car hobby overall.
While cars of this era have youth appeal (in a relative sense), they aren't only of interest to children of the 1980s and '90s. Sporty models from this time have strong enough performance to be lively, but don't yet carry the multitude of electronic interventions that temper the connection between driver and car, which makes them exciting for a range of owners.
Here are three models that represent these evolving tastes in classic car buying. If you haven't given these models a look since they were viewed only as used cars, now is as good a time as any.
1986-91 BMW M3 (E30)
BMW's well-earned reputation for producing driver's cars that blend performance and luxury was in part established by the "E30" generation M3, manufactured from 1986 to 1991. Those original M3s were more than a hopped-up version of BMW's entry-level 3-Series two-door sedans, they were initially a limited-production homologation run of racing cars designed to best rival Mercedes-Benz — which they did in grand fashion in Europe's DTM touring car racing program and beyond. While the "M" badge BMW liberally uses today was technically introduced years before the M3 appeared, it is the E30 M3's racing success that elevated the moniker to hallowed ground.
Today, the E30 M3 has become an expensive classic car. While a perfect E30 M3 cost around $25,000 in 2011, according to Hagerty Price Guide, today that same car commands just over $150,000, and it continues to climb. More valuable still are the rare (only 600 made) and incredibly desirable Sport Evolution models, which currently top out at $345,000.
1991-96 Acura NSX
For too long, the Acura NSX was a victim of its own success. It was too good, too reliable, too…Honda to be embraced by serious collectors. Never mind that legendary F1 driver Ayrton Senna helped develop the car, that its cabin was inspired by F-16 jets, and that it used cutting-edge technology throughout. Every other mid-engine supercar was built in Europe, not Japan, was wildly expensive, and was often punishing to own. For decades, car collectors had been trained that they couldn't have their cake and eat it too. So, while the ownership experience was world class, the market routinely passed the NSX over in favor of Ferraris, Lamborghinis, and more.
Today, the 30-year-old NSX is seen in a different light. Enthusiasts who were too young to pass judgement when the car was new prize the Acura as being the halo car for the brand that gave them the VTEC-engined Civic and CRX hot hatches they were loyal to in high school. Even though the NSX is valued at less than half the price of more exotic cars from the era, that enthusiasm has lifted values by 48 percent over the past five years. And there is still plenty of room for prices to grow.
NSX production numbers were high but, given their usability, so is mileage for most examples. Collectors are paying a premium for investment-quality cars with fewer than 20,000 miles on the odometer. Sales of such cars repeatedly exceed $120,000.
1996-2002 Dodge Viper GTS
The Dodge Viper burst onto the scene in 1988 as a concept car aimed at shaking Chrysler's practical image. Public reaction was so enthusiastic it was fast-tracked into production as a limited-run muscular roadster, debuting in 1992. With its long hood, sultry curves, and V-10 engine, the car was an unmistakably raucous riot.
The car really hit its stride with a 1996 refresh, when it gained the option of a coupe body and more creature comforts like air conditioning and power windows, and a power bump to 450 hp. This new package, known as the SR II, greatly increased practicality — not that Viper owners were terribly concerned about such things. The car, with its boundless torque and incomparably visceral feeling, was still unapologetically unrefined, which is what makes it so appealing today.
Generation Xers and millennials account for nearly two-thirds of the active buyers of second-generation Dodge Vipers today, which means there are plenty of younger enthusiasts entering the car market. As a result, prices for top-quality SR IIs increased by 26 percent in 2020 alone. While good SR II Vipers are still available for $60,000, six-figure sales are becoming more frequent. As with other collectible cars, rare performance variants like the GT2 and ACR models are the most sought-after and have good prospects for future gains.
No matter which collector car piques your interest, be sure to contact your insurance broker to get coverage in place once you make a purchase.
About the Author
Brian Rabold is the Vice President of Valuation Services for Hagerty and has been reporting on the collector car market since 2000.