Growing Old at Home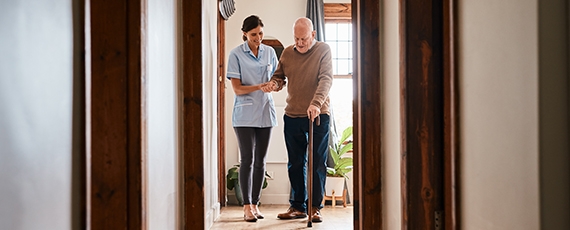 Today, more successful families and individuals are choosing to stay in their homes or age in place; however, many may have not yet considered the need for accessibility modifications to update their home in preparation for the potential effects of aging, disease, or an unexpected injury. From minor renovations to retrofitting an entire home to accommodate the changing needs of a disabled family member, it is important to consider the safety and liability implications resulting from these types of modifications, while taking steps to maintain and preserve the home's value and charm.
An Accessible Future
The need for home accessibility is growing. According to a recent report, only 3% of successful families and individuals are thinking about future accessibility modifications, yet over 30% have a probability of experiencing a severe disability over the age of 55.[1]  To help assess the likelihood of modification needs, consider these questions:
When I reach retirement age, do I plan to stay in my home?
Do I plan to have any elderly family members live with me in the near future?
Does anyone in my home currently require daily assistance?
Does anyone in my family use a mobility device?
Do I have a plan if I am faced with a need to quickly make modifications to my home?
If the answer is yes to any of the above questions, then it may be time to start thinking about future accessibility solutions to ensure a comfortable and functional lifestyle.
A Universal Design Approach
Universal design is the concept of designing products and environments to be usable for all people, and is a popular home design solution for those looking to age in place. It integrates elements that are appealing and functional to virtually all, regardless of age, size, ability or disability.  Custom features such as wider door entries and height-adjusted counters provide ease and comfort while offering aesthetically pleasing design. These design concepts are aimed at creating utility for all while also protecting the home's value and uniqueness.
We're Here to Help
Whether you're planning renovations to make your home more accessible or anticipate the need for accessibility updates in the future, Marsh McLennan Agency Private Client Services is here to help you navigate the safety and liability concerns associated with these modifications and recommend appropriate insurance coverage to fit your specific needs.
[1]United States Census Bureau, Americans with Disabilities: 2014 Report, p70–152.