Earth, Air, Fire, Water: Managing Property Risk is Elemental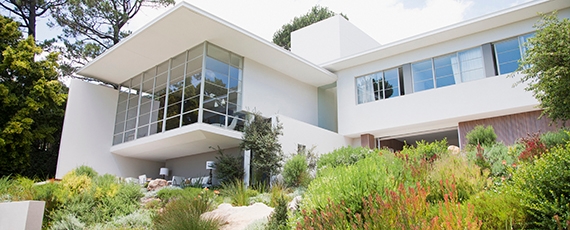 How Homeowners Can Lessen the Impact of Natural Perils
In our recent Family Office Benchmarking Study 2021, property risks rose to the top of the list of concerns among large families and family office clients. With the significant amount of time we all spent in our homes in 2020, it follows that maintaining our property and keeping it safe would be top of mind. But amid the pandemic, many of us may have missed that 2020 was also a record-breaking year for natural disasters.

First Step in Protecting Property
From wildfires, to severe convective storms, to hurricanes and tropical storms, property risks are an ongoing threat. Despite the exposure from natural catastrophes, homeowners can mitigate some of these risks.
A first step in protecting high-value homes is to consider the risks for each location. Working with an experienced personal risk advisor enables homeowners to better identify and assess property exposures, which serves as the cornerstone of a robust risk mitigation and insurance program. Comprehensive risk assessment can occur before, during, and after a home is built, though certain risk mitigation strategies are easier to implement during construction.
Among the tools property owners can take advantage of to fortify their homes against a variety of natural perils are: new construction techniques, damage-resistant building materials, risk-influenced landscape designs, and innovative external protection systems.
Taming Wildfire Risks
Wildfire is a frightening phenomenon that unfortunately is becoming more frequent in the western US, particularly in California, Colorado, and Oregon. In fact, 30% of California's most destructive wildfires since 1991 broke out in a single year: 2020. That year, according to the California Department of Forestry and Fire Protection (CAL FIRE), wildfires burned more than 7,100 structures and nearly 1.9 million acres – an area greater than the entire state of Delaware.
While wildfire risk tends to increase during certain times of year, the conditions that ignite them are prevalent year-round. Wildfires are unpredictable, and they can spread quickly. Often, structure fires start when burning embers ignite combustible components on or near the building. As a result, property owners in wildfire-prone areas need to rely on exterior defenses.1 These include:
Building materials. Fire-resistant construction materials and designs are primary means of fortifying a home from wildfire damage. For example, siding made of stone, metal, stucco, or fiber cement are considered noncombustible. Exterior features, and how materials are installed, can affect a home's vulnerability to fire. Eaves, overhangs, and decorative elements can attract and trap burning embers. Many fires start at the roof line or in the attic space; therefore, fire-resistant roofing materials and closed eaves are major considerations when strengthening a home against wildfires.


Landscaping and vegetation management. The amount, types, and placement of vegetation in the first 100 feet surrounding a property can make a big difference in its wildfire exposure. Proper landscaping management is a crucial consideration when evaluating this defensible space. Properly pruning, trimming, and clearing vegetation in the first 30 feet at a minimum helps to create a fire break that can help to protect your home from wildfire. Certain species of trees and shrubs that thrive in sunny, dry climates also tend not to be fire-resistant. For example, Italian cypress trees are shapely, hardy and grow quickly to heights of up to 70 feet, but they also have highly flammable resins and oils. Tall vegetation also can drop branches, leaves, or other combustible material onto roofs, which can ignite or fuel a fire.


Sprinkler systems and coatings. A relatively new tool for property owners is exterior sprinkler systems that dispense water or foam to snuff out windblown embers or flames. Distinct from lawn or garden irrigation systems, sprinkler systems are designed to reduce fire risk by wetting the outside of a structure. A derivative solution is the application of fire-resistant gels or coatings over combustible materials such as wood siding and roofing. A downside to gels and coatings is they generally are effective for a short period, and there are no established performance standards for these products. Sprinkler systems may help property owners obtain insurance coverage where insurers see a high potential for fire losses.
Wind and Water
Properties outside of wildfire zones may be exposed to damage from severe weather, such as hail, snow, ice, or torrential rains, and coastal properties can bear the brunt of hurricanes. Secondary perils in wildfire-prone locations include floods and mudslides due to the loss of vegetation that helps provide stability to the hillside.
2020 was a record year for named storms, with 30 forming during the Atlantic hurricane season. Thirteen of the 30 named storms strengthened into hurricanes, and 12 of the storms made landfall – also a record. Insured losses in North America from tropical cyclones in 2020 exceeded US$26 billion.2
Homeowners can't stop storms from occurring, but they can take steps to lessen their impact. To mitigate damage from hail, high winds, and extensive rains, elements property owners should focus on include:
Roofs. Once a roof is breached or loosens, strong winds can tear it apart, threatening the property's structural integrity. Using reinforced shingles or metal roofing, and underlayment, can provide significant resistance to hail, flying debris, and water intrusion. Reinforcing braces or rafters is another method of securing a roof against shearing off in high winds. Careful installation, regardless of the roofing material, is critical to protect properties from nature's fury.


Windows and Other Openings. In many coastal areas, insurers and/or local code may require opening protection, such as storm shutters and screens, as a storm approaches. Another option is installing hurricane-resistant windows and doors that maintain curb appeal and remove the need for an additional physical placement of protective items ahead of an impending event.


Exterior equipment. Loose or easily dislodged objects, from outdoor furniture to mechanical equipment for a pool, for example, can become dangerous projectiles in a storm. Anchoring, tethering, or relocating such items may reduce the possibility of further property damage.


Structural landscaping elements. Bulkheads, berms, and retaining walls can provide partitions and supports to reduce damage, particularly near adjacent properties. Landscape designs that facilitate the flow of mud and debris around a structure can provide additional protection.
Risk Management Tips
The following tips can help property owners to mitigate the risk of damage:
Seek local knowledge. In real estate, value is closely tied to location. Risks also can be location-specific. Local regulations and restrictions, as well as the physical location of a property, may make certain protective strategies better options than others


Consult experts. Working with a personal risk advisor and other experts is strongly encouraged, particularly when beginning a construction project or embarking on a major renovation. Detailed information on building plans is helpful in obtaining appropriate insurance coverage.


Explore insurance options. The insurance companies that Marsh Private Client Services works with generally provide a variety of resources to help homeowners safeguard their properties and rebuild after a loss. For example, a common feature of policies for high-value homes is additional living expenses, which can cover a family's living expenses for as long as it takes to rebuild their home.
As 2020 showed, natural perils can threaten lives and property everywhere. To preserve our homes as places of refuge and safety, property owners should work with a trusted, experienced personal risk advisor to understand their risks and exposures, and obtain the most appropriate protection.
1 "Home Survival in Wildfire-Prone Areas: Building Materials and Considerations," University of California Agriculture and Natural Resources, May 2010.
2 "Record hurricane season and major wildfires – The natural disaster figures for 2020," Munich Re, January 7, 2021;