Collector Cars: Risks in Storing and Maintaining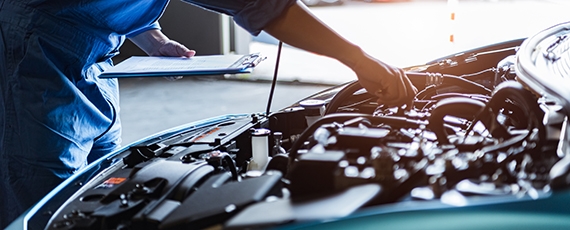 As thrilling as owning and driving a collector car is, collectors need to know about risks that can arise when their vehicles are stored or undergoing maintenance. Keeping a prized car garaged isn't always enough to protect it from damage, theft, or loss of value.
Whether a vehicle is parked at the collector's home, an offsite facility, or at a maintenance shop, risks that car collectors should stay aware of include:
Natural perils. No matter where an auto collection resides, cars can be exposed to severe weather and conditions that result in partial or total losses. These perils include:
Wind. Hurricanes and tornadoes are among the most destructive windstorms on Earth, but high winds of lesser intensity can topple trees and send objects flying. 2020 was a record year for named storms – 30 formed between June 1 and December 31, the traditional Atlantic hurricane season, and 13 of them became hurricanes.

Water. Flood is one of the most common and destructive natural threats. Every US state since 2000 has experienced flood events severe enough to prompt presidential disaster declarations. A collector car with flood damage will have a significant loss of value – at least 25% – and require expensive restoration. And flood carries latent damage that can become obvious later, such as electrical system shorts, diminished braking performance, and mold growth.1  For example, storm surge from Typhoon Jebi in 2018 flooded a Ferrari dealership in Kobe, Japan, destroying 51 new and older Italian supercars causing about $9 million in damage.

Hail. Hailstorms cause an estimated $15 billion of damage annually to homes, cars, and crops. A car exposed to hail may have extensive damage to its windows and body. Climatological data shows that 85% of hailstorms in the United States occur between May and August, and tend to occur most often in the same areas prone to tornadoes.2

Earthquake and subsidence. Earthquakes may be risky for only a few car collectors, but other areas of the country face soil erosion and sudden settling of the ground, such as a sinkhole. A dramatic example of subsidence and damage to collectible autos occurred in 2014 at the National Corvette Museum in Bowling Green, Kentucky, when eight rare Corvettes fell into a 30-foot sinkhole – directly underneath a primary exhibit area. The nightmare for Corvette fans had a happy ending, though: all the cars were rescued and restored.3
A car collector should consider: What risks are prevalent at my storage locations? What kinds of structures are my cars in? And how prone to damage might those be from wind, hail, water intrusion, or another peril?
Fire. Whether accidental or an act of arson, fire poses a huge risk to life and property. Collector cars are particularly vulnerable to fire because they may contain fuel and other flammable materials. A vehicle fire also can cause an explosion, causing injuries and death as well as damage to adjacent cars and neighboring property. According to the National Fire Protection Association (NFPA), in 2019, fire departments responded to nearly 1.3 million fires, which caused about 3,700 civilian deaths, over 16,000 injuries, and $14.8 billion in property damage. Notably, 17% of the deaths were due to vehicle fires.4
Physical security. Having a prized vehicle stolen is a nightmare for any auto enthusiast. The number of vehicle thefts each year has decreased since 1991 but has remained relatively steady since 2009. Motor vehicle theft declined about 4% in 2019 to an estimated 721,885, according to the Federal Bureau of Investigation's Uniform Crime Reporting Program. Of all vehicles stolen, almost 75% were cars.5
Collector Car Risk Management Tips
The following tips can help mitigate some of the physical risks of storing and maintaining:
Store vehicles in strong structures. Car collectors don't necessarily need to store their collections in fortified underground bunkers, but they should seek storage locations that meet current building codes and are strong enough to withstand commonly occurring weather conditions.
Garage safety. Whether at home or in a repair shop, safety should be top of mind. Adequate ventilation and fire protection equipment should be present and in good working order, and flammable materials should be kept in approved containers or relocated. Oily rags and gas cans, for example, are a dangerous combination. A professional shop that maintains or restores collectible autos should have liability insurance, but it's better to prevent a loss than to endure a financial recovery. Inquire about the shop's safety procedures and its insurance protection.
Physical security. Locking the garage doors is a critical step in preventing theft, and surveillance equipment can be helpful. One easy thing to overlook, and critical to avoid, is leaving the keys to your prized possession in the vehicle.
Explore insurance options. Maintaining adequate insurance designed for collectible autos is prudent. Marsh McLennan Agency Private Client Services works with leading insurance carriers that provide flexible collector car insurance solutions. The right risk management can give car collectors peace and mind as well as confidence wherever their collections are parked.
1 "Why flood-damaged cars are more dangerous than you think," MarketWatch
2 "U.S. Hailstone and Hailstorm Records," Christopher C. Burt, Weather Underground
3 "Corvette Cave-In," National Corvette Museum
4 "Fire Loss in the United States During 2019," National Fire Protection Association
5 "2019 Crime in the United States," Federal Bureau of Investigation