Automobiles or Art?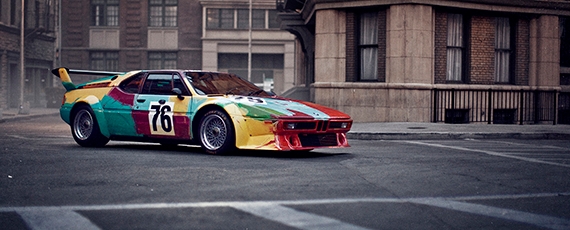 BMW blurred the line between automobiles and art starting in the 1970s, when it commissioned artists like Andy Warhol to transform cars like the M1.
Photo credit: ©BMW AG
Classic Cars are Driving Into the World of Fine Art
On October 28, 2020, Sotheby's offered 41 paintings, sculptures, and pieces of furniture at its Contemporary Art Evening Auction. Oh, and three old cars. The "triptych" of Alfa Romeo Berlina Aerodinamica Tecnica (BAT) concept cars sold for $14.84 million — more than any other lot and more than 10 percent of the auction's overall total. The future-looking, mid-century styling standouts reinforced that cars and art can occasionally be indistinguishable.
This isn't the first time cars have been positioned as art. The Museum of Modern Art in New York added a 1946 Cisitalia to its collection in 1972; BMW has worked with 17 famed artists including David Hockney and Jeff Koons since 1975 to paint some of its most prized models; and in 2018, the minds behind Art Basel staged a car-themed riff on the annual mega-art fair dubbed Grand Basel. Sotheby's, along with RM Auctions, held a gallery-style "Art of the Automobile" auction at its New York showroom in 2013 to the tune of $63 million in sales, and revisited the concept successfully several times in the following years. Indeed, some of the first collector cars to go under gavel were done at art auctions in the middle of the 20th century, well before stand-alone car auctions became common.
The Car Market Matures
But while fine art and automobiles sometimes mingle, the art market itself is much more established. Centuries before cars even existed, there were art collectors, and as long as there have been art collectors, there has been a market for art. Despite being perhaps a few centuries younger, the car market is starting to catch up.
Through the 1990s, most car enthusiasts were interested in buying fresh cosmetic car restorations that put a car back to showroom condition, or promptly taking aging automobiles adorned with patina directly to a shop for new paint, chrome, and upholstery. As the car market has matured, however, car collectors have warmed to principles that are fundamental  among art connoisseurs. Foremost, objects that have been changed the least are worth the most. Art collectors have long believed this to be true, and in the last two decades, car collectors have come around to this belief as well.
In 2001, the Pebble Beach Concours d'Elegance, the world's premier event for showing and celebrating fine cars, created a Preservation Class, helping highlight the importance and rarity of cars in original condition. Today, similar classes exist at most major concours. In the marketplace, buyers routinely pay more for cars in unrestored, original condition than they do for perfect restorations of the exact same model. As the saying goes, it's only original once.
The Provenance Premium
Echoing the art market, provenance is now a familiar term among car collectors. Just as works of art can be forged, so too can automobiles. The reward for authenticity has only grown as blue-chip cars have become more valuable. Today's buyers want to know a car's story in full, including ownership history, awards won, races ran, and clear proof that the drivetrain, body, or even the paint are original to the car. The taller the stack of papers, the more assurance prospective owners have, and the more they are willing to pay  — conversely, large gaps in a car's file drag on its price.
Performance Art
A key difference between cars and traditional works of art is that cars originated as a utility, designed to move through space. Most of them have been heavily used during their lifetimes, and they require regular use today in order to prevent certain parts from deteriorating. In that sense, they can be more demanding to own than an expensive painting. They also have additional carrying costs, like storage, maintenance, and general automobile upkeep that can be difficult for new collectors to navigate. The reward is that classic cars can be much more versatile and usable than other passion assets. Even antique cars can be driven on public roads, and there are no shortages of rallies, concours, and other events where a collector car owner can mingle with like-minded enthusiasts. Even the care and tending they require becomes its own sort of rewarding hobby.
A Matter of Perspective
Another major difference between the two markets is scale. The fine art market tallied $7.37 billion in auction sales for the first half of 2020, according to Artnet, compared to just $1.34 billion in auction sales for collector cars over the same period, according to Hagerty. That scale changes, however, when private sales aretaken into consideration. Auctions represent approximately half of the art market, whereas it is only 5 to 10 percent of sales for collector cars. All told, Artnet estimates $11.6 billion of fine art is sold each year against Hagerty's estimate of approximately $20 billion in collector cars. There is no shared definition between cars and art for what qualifies as collectible, so these numbers are like comparing, well, Porsches and Picassos.  Still, they do help convey the approximate and relative size of both asset classes.
While more collector cars sell each year than works of fine art, the typical price of a work of art is much higher than that of a collector car. Just keying in on the most rarefied sales, nearly 50 paintings have sold in excess of $100 million.   In contrast, the  most expensive car sale was a reported $70 million private acquisition of a 1963 Ferrari 250 GTO in 2018. There are certain cars that are worth nine figures, but none have been reported to have traded at that level yet.
Beyond the financial similarities, cars and art align in the way they evoke emotion. They are often obsessive expressions of a master's vision; they are symbols of style, status, or taste. Both sectors have developed into asset classes in their own right, but they remain, first and foremost, objects of desire. As the younger collector car market continues to evolve, look towards the art market for what shape that evolution may take.
About the Author
Brian Rabold is the Vice President of Valuation Services for Hagerty and has been reporting on the collector car market since 2000.