Water, Water Everywhere: Cautionary Tales of Water Damage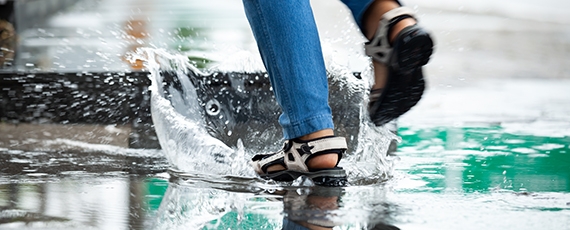 If you're curious about what one of the most common personal insurance risks is, the answer is resoundingly clear: water.
One insurer's study of 100 clients over a five-year period showed that residential water damage was both the most frequent (more water losses than any other cause of loss) and the most severe (most dollars paid). Another homeowners insurer reported that an astounding 72 percent of their property damage losses in 2015 were attributed to water, with an average cost of $320,000.  In 2016, the Insurance Information Institute reported that nearly 30 percent of all property losses suffered by homeowners that year were a result of water damage. And among our own clients — large families and family offices specifically, who often have secondary homes — non-weather related water losses are the most common, accounting for approximately one-third of all homeowners claims over the last 10 years.*
Avoid Water Damage While You Are Away
A client had water back up into their unfinished basement while they were away. The basement was empty, so there was nothing to damage. How bad could that be, right? Wrong. It was winter, and the homeowners were out of town for an extended period. By the time they came back home, the heat in the house had caused moisture to rise through the first and second stories of the home. The resulting condensation caused extensive water damage — hardwood floors were warped, silk wall coverings had come unglued and fallen off the walls, and the sheetrock was wet and bulging. This water backup ultimately totaled more than $1 million in damage.
Secondary homes are particularly vulnerable to water losses, as small leaks can become big problems when no one is home to address the issue. Water can create significant damage when it goes unchecked.  
Frozen pipes are another potentially avoidable source of residential water damage. If your home is closed during the winter in an area where there are freezing temperatures, you should have pipes and appliances drained completely to keep them from freezing and causing extensive damage. It is recommended that an unoccupied winter home's temperature be set to no less than 55 degrees** to avoid coming home to serious problems. Also, consider asking your alarm company to install a low-temperature monitoring device, which many insurers require in secondary homes.
When closing your home for the season, follow these tips to keep it safe and secure.
Does Homeowners Insurance Cover Flood Damage?
Because damage caused by flooding is not covered by most homeowners policies, as homeowners, it is important to understand the difference between a flood loss and other types of water damage.
Water damage can come from many different sources – a broken pipe, a hole in a damaged roof, or a water backup as noted above.
In general terms, flooding is usually caused by rising water from outside the home.  Insurance advisors often hear a common misconception, "my home isn't in a flood zone; I don't need flood insurance." Every home is in a flood zone, but homes in lower risk zones are typically not required to carry flood insurance by mortgage companies. Homes in high-risk areas have a 26 percent chance of suffering a flood over the course of a 30 year-mortgage, as reported by FEMA. In fact, homes in high-risk areas are 2.5 times more likely to suffer a flood than a fire.
So, is it flood or is it water? The information below outlines which policy may respond to a given scenario:
Loss

Flood
Policy

Homeowners
Policy

Flood water rising into dwelling

X

 

Faulty hose causes washing machine to leak water, damaging flooring

 

X

Fire causes interior fire sprinklers to activate, damaging interiors

 

X

Nearby stream or river overflows and damages residence

X

 

Missing, worn, or broken roofing materials allow water to penetrate and deteriorate the roof structure

 

X

Water heater bursts and damages flooring and walls

 

X
Defend Against Water Damage
What can we do to protect our homes? Maintain your home with common sense precautions and make sure you are covered with proper insurance.
Drain pipes and appliances completely to keep them from freezing while you are away, and keep the temperature set at no less than 55 degrees.**
Have a low-temperature monitoring device installed by your alarm company.

Install water leak detection and shut off devices. They are available at reasonable prices, and your insurer may be able to help.

Consider purchasing flood insurance. In low risk zones, coverage may be available at a very reasonable cost.

Make sure your insurer covers water losses arising out of back-up of sewers and drains.
For more information on how to help protect your family and your property from losses related to residential water damage, review our comprehensive flood risk resources.
*Among large families and family office clients from 2007-2017.
**Please keep in mind that you may need to set your heat above 55 degrees when you're away in extreme weather conditions and depending on how well your home is insulated. Insurance policies require that reasonable care must be taken to maintain heat, or water must be shut off and all systems and appliances must be drained.