Hi, I'm Ray.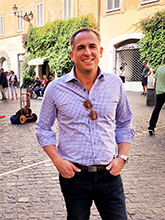 Northeast Sales Leader
Melville
All About Me
I was in private wealth management for many years. After a while, it became apparent how much insurance, or lack thereof, can affect a client's wealth. So I started focusing on helping clients manage their risk through insurance and eventually earned my P&C license in 2011. Insurance is really a product everyone needs but there's often a lack of education around it. I like being able to share that with clients and seeing how much it helps them protect their wealth and their legacy. 
My Role
For clients, I'm really a relationship manager – a liaison between the client and the markets. It's my job to connect the dots and make sure the client is getting the most appropriate, best protection for their needs. I also work closely with other advisors and centers of influence to see how we can partner together to help clients and grow our business. I love making connections and putting people together that makes sense. 
What I Like Most
I love that every day is new. I get to meet new people, explore relationships, and connect people to solutions that truly help them protect their property. And I've been able to do that at Marsh. The strength Marsh has in the marketplace is tremendous and so is the loyalty in its employees. I joined Marsh to make my skillset more dynamic and bring clients access to the specialists and resources they need. Here I've been able to find solutions for clients that I wouldn't have been able to place elsewhere. 
Where I Hope to Go with Marsh
I've had the goal of putting a different face on insurance, which is a traditionally pretty conservative role, and transforming the advisory experience. I want to be someone who brings together the resources within the firm and bridges the gaps between personal and commercial risks, both of which are concerns to many of our clients. I hope to optimize those resources and bring the full complement of risk management services to our clients.