Hi, I'm Andy.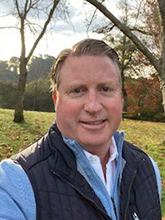 Business Development Executive
San Francisco
All About Me
I have about 30 years' experience in the professional services industry, working in financial services, private equity, equity capital markets, and insurance. I've had extensive experience with high-net-worth clients during my career and enjoy the cadence of decision making on the personal insurance side, which can be quite different on the commercial side. I enjoy building relationships and creating networks to be successful and spending time where it's meaningful – whether with clients, colleagues, or family.
My Role
I came to Marsh PCS in San Francisco about five years ago, after working at Marsh's sister company, Mercer, to continue to build our practice of sales and risk consultants under a great brand. San Francisco is a market with a lot of competition and longstanding producers in the Bay Area. My goal is to bring a winning culture to our practice and be collaborative. That means sharing each other's experience and expertise. We have a lot of smart people, and we go above and beyond for our clients and centers of influence.
What I Like Most
Before COVID-19, one of the things I enjoyed most was the culture of our team, and the camaraderie in person. We still have that, just in a different way due to the pandemic. We are proud to be leaders in our market, and we work together – collaborating and helping each other build relationships. I like that we're hungry, humble, and motivated to build our practice by helping clients with their needs. 
Where I Hope to Go with Marsh
I enjoy leading people to find solutions and build things together, and I've had the benefit of managing many colleagues. My goal is to keep doing the best I can for our clients, our practice, and our people. Nothing replaces doing the best job you possibly can in your current role.