Wildfires: Safety, Risk Management, and Claims Considerations for Personal Insurance Clients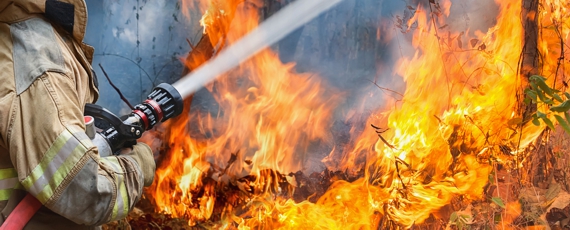 Conditions conducive to the spread of wildfires, include hot, dry temperatures and high wind gusts. If you are in an area at risk of wildfire, you are urged to consider your safety first and evacuate the affected area as prudent and required.
If you are still at home, and it is deemed safe for you to remain there for the time-being, please note that there are some things that you can do to help lower the risk of damage to your property from wildfires.
Close To Your Home (within 10 metres):
Remove any dry leaves, pine needles, or any other combustible materials that may be present.
Prune any tree limbs that are closer than 4.5 metres from the ground.
If there are vines, shrubs, or any other types of vegetation at the sides of your home, consider removing them.
Store any flammable patio furniture.
At an Intermediate Distance From Your Home (from 10 metres to 30 metres):
"Fuel breaks" may help prevent the spread of fire onto your property. These can include pathways made of gravel or other incombustible materials.
Prune any tree limbs that are closer than 2.5 metres from the ground.
Find and remove any combustible vegetation.
On the Perimeter of Your Property (from 30 metres to 60 metres):
Move any firewood or other scrap wood away from close outside of your house to this zone.
Find and remove any combustible vegetation.
Be Prepared To Evacuate
Have an escape plan and multiple escape routes (if possible) laid out. Share these plans with family and any other parties as required.
Monitor any communications regarding a possible evacuation for your area.
Have supplies packed and an emergency kit ready.
In Case of an Evacuation Order
Help prevent combustion inside the dwelling by taking down drapes and moving furniture towards the centre of rooms.
Close your doors and windows.
Turn-off any natural gas to your home at the source.
Leaving on the lights as they may aid firefighters in seeing through any smoke in your home.
Leave promptly, if directed to do so.
Use extreme caution around trees, utility poles, and other tall objects that may have become unstable.
If you are leaving by car, and the air outside is compromised by smoke, leave your windows rolled-up and the air vents closed. Remember to also turn-on your headlights and leave your car doors unlocked in case you need to make a quick exit.
After a Wildfire
Do not return to your property or enter your property until the authority deems it safe to do so.
Inspect your property for any smoldering areas that could still ignite and put them out right away. Ash pits (holes in the ground that contain hot ashes from burnt trees) can present a risk and need to be extinguished. Remember to also mark or fill them so they do not present a trip hazard.
If You Need To Make a Claim
Inform your insurance broker immediately in the event of any actual damage.
Document physical damage before beginning cleanup efforts — taking photographs, video, and detailed notes can be helpful.
Keep damaged items unless they pose a health hazard.
In terms of future fireproofing, please consider:
Using non-flammable landscaping materials such as gravel and stone instead of wood chips or mulch.
Locating trees a suitable distance apart so their branches do not touch when mature.
Construction of your home using fire-resistant materials.
Testing your smoke detectors regularly.
Installing fire sprinkler systems.
Ensuring your outside hose is long enough to reach every part of your property.
Ensuring the fire department has access to all of the water sources on your property including hydrants, wells, swimming pools, ponds, or lakes.
Remember that your safety should come first in the case of wildfire risk. Above all, please be safe.