Top 3 Yacht Insurance Risks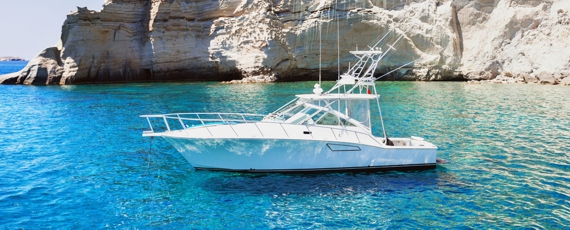 Your yacht can be a home, a vehicle, an investment, and sometimes even a workplace, if there is staff and crew onboard. With such varied uses, the applicable insurance exposures are understandably complex with coverages to address them including hull and machinery coverage, workers compensation and crew medical coverage, liability, contents (including furnishings, art, and varied tenders), and more. A risk coverage strategy is recommended to help ensure the yacht, its contents, the passengers, and owner are insured in case of an incident.
Navigation
If you ask owners what they value most about the yachting experience, some will invariably answer that it is the freedom that comes with exploring parts of world on your own schedule — and in a way many people do not have the opportunity to experience. However, please remember that different regions of the world may have different regulations for navigating their waters.
As you define your navigation plans, please note that your required coverage will be dependent on where you intend to travel. Required coverage will differ depending on if you intend to remain within Canada, travel to the US, or expand your travel further to the Caribbean or even the Mediterranean. Of particular note, you may find yourself without coverage for yacht trips to Mexico unless you arrange proper insurance beforehand. Travelling to Cuba requires specific attention be paid to insurance for transporting authorized passengers.
Before consulting your personal risk advisor, please outline your travel itinerary. This way, your trip plans can be scrutinized for the applicable insurance coverage requirements — whether they are domestic or international. An example of a specific international insurance requirement is the Nairobi Convention that went into effect in April of 2015. It states that vessels travelling within certain international waters are required to carry wreck removal insurance.
Coverage for Pollution
When you purchase a standard yacht insurance policy, it will normally include coverage for property and indemnity coverage as well as basic liability (including some policy insurance for pollution risks). However, it is important to recognize that this pollution coverage is limited and may not provide adequate coverage for pollution risk in all situations and jurisdictions. When assessing the adequacy of pollution coverage, the yacht owner should first determine if the overall policy limit is sufficient, given the risk. Next, and just as importantly, you need to examine how pollution coverage would respond in the case of a fuel spill or other contamination event, as even a small unintentional spill has the potential to be a serious issue. To protect against this risk, there are specialized insurers that offer expanded policies with additional coverage benefits including damage assessment, defense in case of litigation, clean-up assistance, and expertise in dealing with fines and penalties.
Security and Safety
Safety is a concern all over the world and your security while travelling by yacht is no exception. Being prepared means understanding that yachting can be dangerous and bad things can happen — especially if you don't invest in insurance that includes coverage benefits such as towing and other emergency assistance; search and rescue; and evacuation for medical emergencies. Although rare, even malicious and extreme incidents such as kidnapping and piracy are possible. Proper insurance protection can help provide assistance should one of these unfortunate events occur.
Talk to Your Personal Risk Advisor
Please remember that preparing and protecting your yacht is not limited to just the three topics discussed in this article. Please consider the following questions to help assess the risks you should address before your next yachting excursion:
Where will you plan to store your yacht?
Do you plan to live aboard your yacht for part of the year?
How is the yacht equipped?
Does you keep possessions and valuables onboard your yacht?
Is there crew that stays onboard?
Do you charter your yacht?
Is your yacht used for social gatherings?
Stay safe and remember to consult your personal risk advisor if you have any questions about yacht insurance or liability issues.
This document and any recommendations, analysis, or advice provided by Marsh (collectively, the "Marsh Analysis") are not intended to be taken as advice regarding any individual situation and should not be relied upon as such. This document contains proprietary, confidential information of Marsh and may not be shared with any third party, including other insurance producers, without Marsh's prior written consent. Any statements concerning actuarial, tax, accounting, or legal matters are based solely on our experience as insurance brokers and risk consultants and are not to be relied upon as actuarial, accounting, tax, or legal advice, for which you should consult your own professional advisors. Any modelling, analytics, or projections are subject to inherent uncertainty, and the Marsh Analysis could be materially affected if any underlying assumptions, conditions, information, or factors are inaccurate or incomplete or should change. The information contained herein is based on sources we believe reliable, but we make no representation or warranty as to its accuracy. Except as may be set forth in an agreement between you and Marsh, Marsh shall have no obligation to update the Marsh Analysis and shall have no liability to you or any other party with regard to the Marsh Analysis or to any services provided by a third party to you or Marsh. Marsh makes no representation or warranty concerning the application of policy wordings or the financial condition or solvency of insurers or re-insurers. Marsh makes no assurances regarding the availability, cost, or terms of insurance coverage.