Responding to Accidents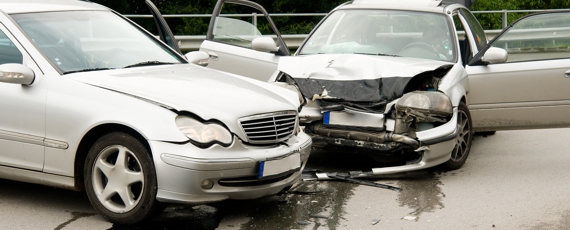 Although you should always try to avoid an accident, sometimes you may just be in the wrong place at the wrong time — accidents do happen and they won't necessarily be your fault. When an accident does occur, staying calm and following some basic advice can go a long way in helping to ensure that you fulfill your obligations, protect your rights, and efficiently resolve the immediate situation. Accident and reporting procedures vary in provinces and territories across Canada, so be sure to consult the appropriate government websites for information specific to your region.

Immediately After an Accident
Try to remain calm and ensure your vehicle has come to a complete stop, then:
Put your vehicle in park and turn on your hazard lights.

Check to see if you or anyone else is injured. Do not attempt to move other injured parties. Call 911 for emergency assistance if anyone is injured.

Do a quick inspection of any damage. In most jurisdictions, there is a combined damage cost threshold at which you must call the police. In Ontario and Alberta, for example, the police must be called and an accident report filed if there is more than an estimated $2,000 in combined damage to all vehicles. In some other jurisdictions, this amount is only $1,000.

You need to report an accident to the police when:

Someone is injured.

The accident involves a government vehicle.

It involves a driver who does not have car insurance.

The accident involved a pedestrian.

There is damage caused to private or municipal property.

You should call 911 when:

Someone is injured in the accident.

You think any of the drivers have committed a criminal offence.

Beware of oncoming traffic. From a safe vantage point, document the accident scene with pictures and/or a sketch. Try to capture visible damage to and positioning of all vehicles, license plate numbers, and other drivers in your pictures for future reference.

If permitted under the circumstances (usually when damage is minor and there are no injuries), move your vehicle to a safer location out of traffic. Remember to take your pictures first, if it is safe to do so.

Obtain the name of the owner/driver, insurer name, policy number, and year/make/model/plate number of the vehicle. Report your personal details to the police as required. Gather contact information for anyone who witnessed the accident.

Do not leave the accident scene until you have determined that the police are not required and you have completed all of the preceding steps.

If damage is less than $2,000/1,000 (as applicable), report the accident to the  nearest collision reporting centre (if required in your jurisdiction) within 24 hours or as required by law.

Call your insurance broker for claims counselling before reporting the accident to the insurance company if:

The accident occurs during normal business hours.

There is no emergency.

You do not require a covered rental car immediately.
Otherwise, use your insurer's 24-hour claims line to report the accident. 
Additional Advice
Now that we've addressed the procedure to follow after an accident, here are some other things to be mindful of:
Try not to engage in arguments with other drivers and passengers or try to determine who was at fault. Do not admit fault to others. Report the details of the accident as they occurred to the police if on scene or to your broker or insurance company.

Fault will be determined by the insurance companies.

Beware of fraud in the form of staging scams. If the circumstances of the accident seem suspicious, report them to the police and your insurance company.

Beware of tow truck scams. If you require towing for your vehicle, ensure that you are not overcharged for the service. Call a tow truck recommended by the police or your insurance company and have your vehicle transported to the nearest accident reporting centre or garage that you and/or your insurance company approve of. 
Frequently Asked Questions
When should I report an accident to the police? You should call the police when the guidelines in your jurisdiction dictate or to report of an accident over a certain damage amount threshold (usually $1,000 or $2,000 in most provinces). Note that this includes damage to other vehicles or property. Regardless of the damage threshold amount, you should also always report an accident to the police if someone is injured (drivers, passengers, or pedestrians), if you suspect that a driver has committed a criminal offence such as driving impaired (from alcohol or drugs), the other driver has fled the accident scene, the accident involves a government vehicle, or the other driver has no insurance. 
When happens if I don't report an accident to the police? In general, you need to report an accident within 24-72 hours. If you do not, you could be charged with leaving the scene of an accident. This carries the penalty of fines, licence suspensions, or even jail time. 

Will the police come to my accident scene? Possibly, but it depends on factors including location, accident severity, injuries, and availability of police resources at the time. 

Does reporting your accident to the police automatically trigger an insurance claim? No. When an accident is reported to the Collision Reporting Centre, the person filing the claim has the option to choose that the information is not forwarded to their insurance company. If they agree to have the accident details forwarded, what happens next will vary by insurer, however, the information will be noted in the insurance company file and they will contact you to discuss.
Do I need to report an accident to my insurance company? You should consult your Province's automobile policy wording or speak to your broker to determine if the accident must be reported to your insurer. For example, in Ontario if the automobile accident involves injury or property damage, you need to report it to your insurance agent, broker, or insurance company within seven days, regardless of who is at fault. If you are found to be not at-fault, your insurance rates generally do not increase as a result of the accident. However, if you are found to be at-fault, the accident will count against your driving record even if you attempt to pay for the damages yourself. Contact your insurance broker who can advise you what your options are and how an accident may impact your insurance. 
What could happen if I don't report an accident to my insurance company? It might be tempting to offer or agree to settle minor accidents without involving your insurance company to avoid potential issues with your insurance. There are some things to consider before doing so:

Make sure that the accident is not required to be reported by local law enforcement. Know when you are legally required to report an accident.

You must also know and abide by your automobile policy requirements to report an accident.

If you decide not to report the accident to your insurer and things start to get out of hand it may be too late to involve your insurer and you could be out of pocket for:

An injury that the other party complains of after the fact.

Repair costs that are much higher than originally estimated.

Repair bills the other party refuses to pay.

The other party has a change of heart and reports the accident to their insurer.

Remember you can always talk to your insurance broker for professional advice.

Is there now an official "Minor Accident" category used by insurers and if so, where is it available? In Ontario only, insurers can no longer use a minor at-fault accident that occurs on or after June 1, 2016 meeting certain criteria to increase your premiums. The criteria include that no payment has been made by any insurer, that there are no injuries, and that damages to each car and property were less than $2,000 per car and were paid by the at-fault driver. This provision is limited to one minor accident every three years.1
Is there a benefit to purchasing an accident waiver endorsement, if it is available? The obvious benefit is that this type of coverage protects your driving record (as it pertains to insurance) for your first at-fault accident. If you do not purchase the accident waiver endorsement and have an at-fault accident, your insurance driving record will not be protected and your rates could go up. Please note that subsequent at-fault accidents within a six-year period would still affect your driving record and the accident waiver endorsement does not protect your driver's licence or against potential charges and fines levied by the government. The accident waiver endorsement may not be available in provinces where government-run insurance programs are in place. 
Have a question about responding to an accident or the accident waiver endorsement? Please contact your Marsh's Private Client Services licensed insurance broker.
1 https://www.fsco.gov.on.ca/en/auto/brochures/pages/brochure_changes10.aspx
This document is not intended to be taken as advice regarding any individual situation and should not be relied upon as such. The information contained herein is based on sources we believe reliable, but we make no representation or warranty as to its accuracy. Marsh shall have no obligation to update this publication and shall have no liability to you or any other party arising out of this publication or any matter contained herein.
* Please note that this article has been revised since its original release.