Overland Water Coverage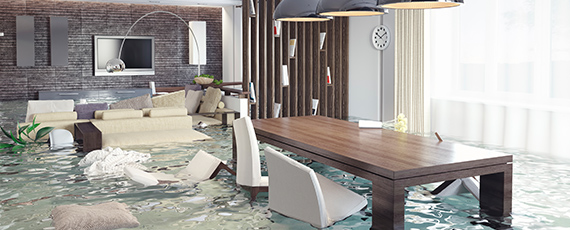 Although traditional property policies may offer insurance for basic water-related risks such as burst water pipes and sewer back-ups, there has historically been no coverage available in Canada for water entering and damaging a property from "overland." This can include water accumulation from heavy rain, spring run-offs, or overflowing rivers and inland bodies of water.
According to a 2014 Statistics Canada report, average temperatures across Canada have increased by 1.6° C over the past 67 years. If we are to believe the resolutions agreed to at the 21st Conference of the Parties (COP21) in Paris, France, global temperatures will increase by a minimum of another 1.5° C and probably 2° C or more by 2100 due to the effects of global warming. Even the low end of these climate change predictions will probably mean wetter, more unpredictable and more extreme weather across the country — increasing over time as even more carbon accumulates in the atmosphere.
The 2013 flooding event in Southern Alberta brought attention to the gap in traditional insurance policies regarding coverage for overland water-related property damage. In the end, the cost for the Alberta floods alone was about $2.2 billion and affected an estimated 100,000 households. Other recent floods such as the 2013 Toronto, Ontario event with $940 million in damages and the 2014 Southern Manitoba event with $1 billion in damages only served to reinforce the argument for overland water coverage. It's not hard to imagine the hardship that would be endured if you did suffer a loss and applicable coverage was not available — water damage can be catastrophic. In response to this risk, Aviva Canada and RSA now offer overland water coverage in all provinces with the exception of Quebec. Intact/Novex is offering overland water coverage for new business starting in February of 2016 and will start offering the coverage for renewals beginning in April.
Water Coverage Available
Water damage coverage is usually broken down into three component parts for most insurers:
Basic Coverage – Generally offers protection for losses resulting from unforeseen events inside the home such as burst water pipes, overflowing bathtubs, and broken/leaky aquariums. Basic water coverage is usually included in your home insurance policy although it is important to note that coverage for burst water pipes may depend on your home being monitored regularly or the water shut-off and pipes drained if you are away for more than four consecutive days.
Sewer Back-up and Sump Pump Coverage – Generally offers protection for losses resulting from back-up of water or sewage from sewers or drains leading to sewers. The coverage restriction here is that water must not enter the property from an overland source. This coverage is usually available to existing property policyholders for an additional premium.
Overland Water Coverage – Generally offers protection for loss or damage related to water entering a property from the sudden accumulation of water from heavy rains, spring run-off, or overflow from lakes or rivers, and is widely available for almost all homeowners, condominium owners, and tenants. Rates for this coverage will vary according to the risk profile of individual properties, but insurance for many homes can probably be considered affordable. The exception to this would be if you reside in a known flood plain and insurance rates would correspondingly be higher.
Conclusion
For most individuals, their home is the most valuable asset they have and it only makes sense for owners to take sensible precautions to protect their investments when possible.
From a historical perspective, major floods have represented almost 40% of all natural disasters ever recorded in Canada. More recent events and trending statistics show that overland water should be even more of a concern for homeowners. In the face of an increasing risk of loss from overland water damage, homeowners should investigate the availability of coverage and decide if the cost is reasonable for their circumstance.