Motorcycle Safety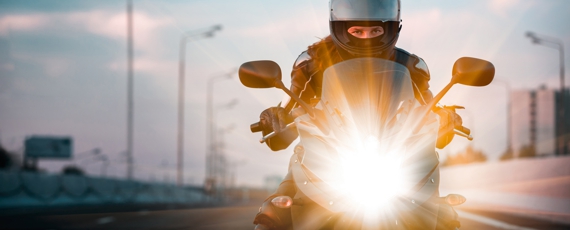 Riding a motorcycle in Canada certainly doesn't seem to be as dangerous a pastime as the statistics prove it to be. Although motorcycle drivers only account for around two percent of motorized vehicle operators on the road, the Insurance Corporation of British Columbia (ICBC) reports that they are also involved in one out of every 10 motor accident fatalities in Canada. ICBC further states that motorcyclists are also 15 times more likely to be involved in an accident than other motor vehicle drivers. With this in mind, learning and practicing motorcycle safety tips becomes critically important to avoiding accidents and injury.
Motorcycle Safety Tips
Aside from taking more care when operating your motorcycle, there are a number of motorcycle safety tips that you can consider to lessen the chance that you will be involved in an accident.
Select your motorcycle carefully with particular attention to the size and power of the bike. Often motorcyclists will choose a bike that may be beyond their ability to properly control. Ensure that you are comfortable driving the bike. It is always a good idea to test drive the bike you want before deciding to purchase it.
Plan to take a motorcycle safety course. This will not only help you to be a better driver, it may also help lower your motorcycle insurance rates.
Check the weather forecast and drive accordingly. Motorcycle safety during extreme weather starts with deciding whether it is too dangerous to drive given the current conditions. Wind, cold, rain, snow, or other weather-related events can impair your ability to operate the bike safely.
Choose the right helmet for motorcycle safety. Aside from selecting one that fits properly and suits the way you ride, remember to look for the Department of Transportation (DOT) approval stamping to help ensure that it is safe.
Dress safely for the ride. Unlike driving a car, heavy clothing may help prevent cuts and scrapes if you happen to fall. The "motorcycle look" including denim and leather jackets can actually be more than a fashion statement. Remember to wear closed-toe shoes that will insulate you properly from hot motorcycle parts and the road. Also wear something reflective to aid in motorcycle safety.
Leave lots of room. The more distance between you and the next vehicle, the less likely it is that you will be involved in an accident.
Try to ride in the correct lane position. If you picture that a lane has three separate parts, you should try to ride your motorcycle in the third of the lane furthest to your left. In this part of the lane, you are most easily seen by other vehicles, and you are least likely to be affected by debris or vehicle fluids on the road.
Take care when riding in a group. Riding in formation take practice and care. Having a set of hand signals that everyone understands and adheres to makes motorcycle safety in a group easier.
Rest when needed. Staying alert on the road is a good practice for all motor vehicle operators, including motorcyclists.
Look into adding anti-lock brakes. If you don't already have anti-lock brakes, investigate adding them to your motorcycle. The Insurance Institute for Highway Safety (IIHS) states that motorcycles with anti-lock brakes are 37% less likely to be involved in a fatal accident.
Ensure your bike is properly maintained and you are ready to ride. Keeping your motorcycle properly maintained is common sense, but a surprising number of people forget to keep their tires sufficiently inflated. Your motorcycle safety is enhanced when you conscientiously and regularly maintain your bike.
Motorcycle Insurance
Marsh's Private Client Services (PCS) is proud to broker motorcycle insurance for both its group and non-group affiliated clients. Just like car insurance, you must have motorcycle insurance in place to legally drive a motorcycle in Canada. Depending on where you reside, you will require a combination of coverage for third-party liability, property damage, uninsured automobile, and accident benefits. Before driving your bike, please ensure that you have purchased adequate motorcycle insurance coverage.
Asking for insurance quotes is one of the best ways of helping to ensure you receive a low motorcycle insurance rate. Your access to preferred group motorcycle insurance rates from PCS allows you the opportunity to compare how much you are currently paying with a preferred PCS rate. If you already have insurance through PCS for your home or car, adding your motorcycle insurance could result in a substantial multi-policy discount. Similar to car insurance, your motorcycle insurance premium can also be reduced through eligible discounts. Ask your licensed PCS insurance broker for more information.