Course of Construction Insurance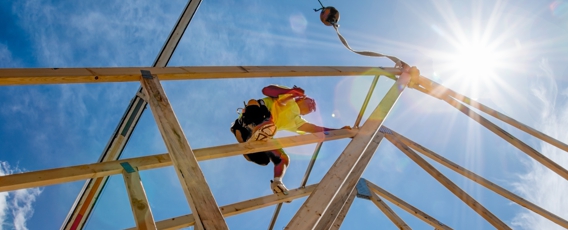 It should not come as a surprise that there is no automatic coverage for major renovations, additions, or construction to your property while the work is in progress. After a project has been completed, most will remember to contact their insurance professional and report the work so that their coverage can be revised to reflect the enhanced property value. However, this means that there can be a sizable risk exposure while the work itself is ongoing and underlines the need for Course of Construction insurance.
Course of Construction (COC) or Builder's Risk insurance is coverage meant to protect property owners, developers, and contractors while major renovation/construction work is being completed — and in some cases for a specified period of time afterwards. Considering the values typically associated with these projects, it only makes sense to protect your investment with COC insurance. Through its purchase, all project stakeholders are protected in the case of loss and when a rebuild is required.
Who can buy COC insurance?
Although it can be assumed that the property owner needs to purchase COC insurance, contractors, project managers, or even engineers can all purchase the insurance. This is due to the fact that COC insurance provides coverage to a number of different parties involved in construction projects and not just the owner. If your contractor expects you to bear the cost of COC insurance, you should ensure the coverage is adequate for the project scope and that this cost is reflected favourably in your contractor's actual job estimate.
Coverage Included
COC insurance will, either through the base policy or optional endorsements, typically cover:
Cost to rebuild.
Labour required to rebuild.
Existing structure (actual cash value).
Off-site coverage/transit.
Earthquake (optional).
Flood (optional).
Bylaws.
Sewer backup.
Fire department service charges.
Fire equipment recharge.
Valuable papers and records.
Professional fees.
Scaffolding, construction forms, and temporary structures.
Coverage will be to specified policy limits and deductibles may apply. Remember to read your insurance policy carefully for a complete list of coverage inclusions. Coverage inclusions may vary by policy and the province in which you are insured.
Coverage Exclusions
It is important to note that a COC insurance policy will normally not provide coverage for:
Tools and equipment used by the contractor as well as mechanical breakdown of said equipment due to negligent operation.
Loss due to inherent vice (faulty design, material, workmanship) or wear and tear.
Motor vehicles on the work site.
Pollution.
Remember to read your insurance policy carefully for a complete list of coverage exclusions.
Advantages
Coverage is specific to a project and can be tailored with optional endorsements to address specific risk needs.
Provides proof of project insurance in one policy document.
If you are a Commercial Lines client, COC insurance provides access to risk professionals who may be able to help detect minor problems, through risk management advice or site inspections, before they become major ones. Please see the following case study.

Case Study
Problem – A Risk Management Specialist was conducting a final COC inspection at a project he had managed throughout construction. Upon examining the mechanical room and system with his thermography camera, the risk manager noticed a cold spot coming off one of the copper pipes. Upon closer examination the risk manager discovered there was a pin-hole leak at a coupling that needed to be fixed. 
Solution – The Risk Management Specialist immediately brought this issue to the attention of the General Contractor for the home, who was able to correct the problem within a couple of days. If this leak had not been caught and fixed quickly, there could have been excessive damage to a custom wood wall on the other side of the mechanical room. Not only could this have been a very expensive claim, it could have meant a delay in occupancy for the clients who were excited to move into their new home.
Benefit – Risk Management Specialists are experts in the field of loss prevention and risk mitigation, as well as leaders in the use of thermography. As a result of timely, thorough inspections and close engagement with the clients and general contractor, the Risk Management Specialist was able to identify a potential problem before it happened. The clients recognized the value of loss prevention, and expanded their home maintenance program to include regular inspections of all mechanical rooms.
Source: AIG Private Client Group


Conclusion
If you are contemplating a major renovation or creating an addition, a conversation with your insurance broker is probably a good idea. Common risks such as fire, vandalism, theft, and natural hazard risks all require coverage while your renovation/construction project is occurring and the added benefit of professional risk advice and inspections can only help to reduce your exposures. Separate COC insurance may not be required in certain cases, if the coverage you need can be added to an existing property policy, but the question should be asked and the coverage arranged. If you are planning a new construction project, COC insurance is highly recommended. In either case, a conversation with your insurance professional should be planned before you start the work.