Auto Theft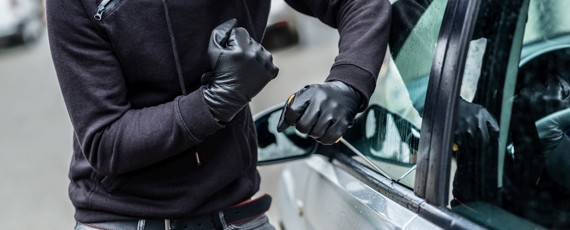 According to Statistics Canada, there were approximately 73,000 auto thefts reported to the police in 2013 — costing Canadians more than $1 billion. Although the general trend for the number of thefts is down, car theft still obviously represents a substantial risk and merits the attention of all motorists. Helping to prevent auto theft should start with remembering not to leave keys in a running vehicle  —  it is one of the leading causes of car theft.
Why Cars Are Stolen
Car thieves usually have set agendas for their stolen vehicles. Most are motivated by greed and their actions are centred on illegal financial gain, but sometimes the thefts can be attributed to not-so-innocent fun. You can basically break down the reasons for car theft into these five general categories:
To sell outside of Canada: Stolen vehicles can sometimes command many times their domestic market value outside of Canada. Stolen cars are routinely shipped for sale in other countries where law enforcement is more relaxed and resale values are higher.
To sell intact locally: Stolen vehicles are sometimes sold locally with falsified vehicle identification numbers. If the thieves are sophisticated enough, they can fool their customers into believing they are legitimately purchasing a vehicle.
Parts: "Chopping" or dismantling a vehicle for parts is a common practice for converting vehicles into cash. Unsuspecting or unscrupulous garages are frequently sold stolen car parts to complete repairs for their clients.
As a tool to commit another crime: Thieves are frequently in need of vehicles to help commit other crimes — usually robberies. Most of these vehicles are recovered soon after the illegal acts, abandoned, and sometimes with substantial damage.
To take for a ride: Sometimes cars are stolen just to take "joyrides."
Preventing Auto Theft
Car thieves are much more likely to try to steal cars that are not properly secured. When not using your vehicle, always remember to:
Lock your doors and roll-up the windows before leaving your vehicle.
Turn-off the engine and take your keys with you if you have to leave your vehicle.
Secure your car in a locked garage, if available.
Carry your registration and proof of insurance on your person instead of in the glove box.
Park your automobile in monitored and more secure locations.
Make sure valuables are kept out-of-sight, preferably in the trunk.
Engage the parking brake when leaving your vehicle, it makes your car more difficult to tow.
Keep your other keys with you if you need to leave your car key with a parking lot attendant.
2019 Top Ten Stolen Vehicles
It may surprise many to know that the number of auto thefts in Canada has been declining since 2007. This is not to say that auto theft is no longer a problem, but the adoption of car immobilizers in all vehicles sold in Canada since 2007 has definitely had a positive effect. If you examine the list of the top 10 stolen cars in Canada as of 2019, you will see that most of the model years are 2007 and earlier:
Ford 350SD AWD 2007
 Ford 350SD AWD 2006
Ford 350SD AWD 2005
Ford 350SD AWD 2004
 Ford 250SD AWD 2006
Ford 350SD AWD 2003
Lexus RX350/RX350L/RX450h/RX450hL 4DR AWD 2018
Ford F250 SD 4WD 2005
Ford F350 SD 4AWD 2002
Honda Civic Si 2DR Coupe 1998

Source: Insurance Bureau of Canada
Conclusion
Since 2007, Transport Canada has required that all new cars, vans, light trucks, and sport-utility vehicles be equipped with anti-theft immobilizers. After seven years, the trend towards lower incidences of vehicle theft is clear with decreases in reported the number of thefts in most provinces and territories across Canada. After-market immobilizers can also be installed in cars for the 2007 model year and before, including those specifically approved for use by the Insurance Bureau of Canada (IBC).
So, what is an immobilizer and what does it do? It is an anti-theft device installed in your vehicle that will automatically stop the starter, ignition, and fuel flow when someone tries to start your vehicle without the key. Although it has proven to be the single most-effective device in helping to prevent automobile theft, nothing replaces common sense and remaining vigilant against putting your vehicle at risk.