All-Terrain Vehicle Safety and Insurance Considerations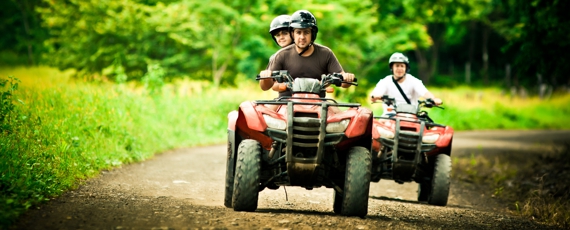 Along with the ever-increasing popularity of All-Terrain Vehicle (ATV)/Off-Road Vehicle (ORV) use also comes an increase in ATV/ORV-related injuries, primarily caused by excessive speed, inexperience with the vehicle or terrain, improper apparel including not wearing helmets, and alcohol use. Individuals who are operating ATVs/ORVs are also unlikely to have received any formal training on the operation of the vehicle before setting out.
To increase your safety while operating an ATV/ORV, follow this list of safety guidelines:
Riders should be matched to the type and size of vehicle appropriate to them. Particularly with children, those under the age of 16 should not operate vehicles over 90cc.
Driver (and any passenger) should wear a DOT-compliant helmet at all times during operation, as well as eye protection (shatter resistant goggles or face shield), mitts or gloves, and proper over-the-ankle footwear.
As with motorcycles, the risk of serious injury to ATV riders is much higher than car travel. Dress appropriately to minimize possible injury in case of an accident, including long sleeves and long pants.
Consider enrolling in a hands-on driver training course such as ATV RiderCourse offered by the Canada Safety Council https://canadasafetycouncil.org/workplace-safety/train-trainer. Courses cover a range of topics such as pre-ride inspection, controls, riding strategies, turning riding circles, emergency stops and swerves, winching, loading, and securing.
Do a pre-ride inspection and check oil, gas and other fluid levels, lights, brakes, and tire pressure.
Do not operate a vehicle while under the influence of drugs or alcohol.
Never carry a passenger on a single-rider ATV, and no more than one passenger on an ATV specifically designed for two people.
Ride only on designated trails and at a safe speed.
ATVs are designed to be off road vehicles and do not perform well on paved surfaces. Do not travel on paved surfaces unless absolutely necessary. Use road shoulder whenever possible while travelling along paved roads as permitted.
The speed difference between cars and ATVs is substantial. Do not attempt to ride amongst vehicular traffic.
ATVs on the shoulder are a distraction to other drivers. Be alert to dangers.
Depending on the type of shoulder, ATV drivers should expect to encounter hazards such as erosion of road, holes, debris, etc.
ATV use on public roadways may be legally restricted to daylight hours. Travelling during the day improves the visibility for both drivers on the paved portion and for ATV users. Do not travel public roadways by ATV at night.
Carry a communications device (cell phone or walkie-talkie) at all times for use in case of an emergency. If travelling alone, alert another individual about your planned route and expected time of return.
Do not attempt tricks or stunts while operating an ATV. Take care in avoiding risky manoeuvres that could result in an accident.
Riding an All-Terrain or Off-Road Vehicle can be a safe and enjoyable activity as long as common sense and these basic safety guidelines are followed.
Insurance Considerations
It is important to note that the insurance requirements regarding ATV or ORV use will vary depending on which part of the country that you intend to ride in. In general, however, operating your ATV or ORV on any crown-owned land probably requires the rider and vehicle to  be registered, licensed, and insured. Although operating an ATV or ORV on private property may technically not require insurance, it would still be prudent to investigate insurance to help protect against damage to your vehicle, injury to yourself, and third-party liability risks. In most cases, coverage for ATVs or ORVs can be added to existing vehicle insurance policies at a discount. If you do not have a vehicle insurance policy, standalone policies are also available.
Please consult the government and third-party links below for specific information about ATV/ORV licensing, regulations, and permitted road use in your province or territory: