Ontario Penalties for Distracted Driving Set to Increase January 1, 2019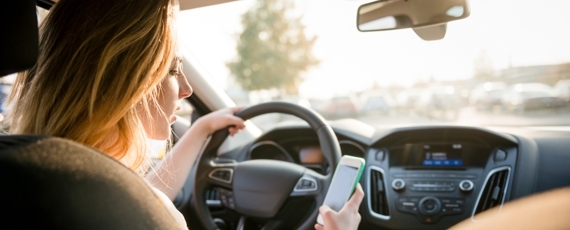 Effective from the beginning of 2019, distracted drivers may receive a licence suspension as well as a substantial fine for distracted driving offences. The suspension period and fine amount will vary depending on the number of subsequent offences as well as the driver's licence type. For A to G licence types:
First offence: Three days suspension and a $1,000 fine.
Second offence: Seven days suspension and a $2,000 fine.
Three or more offences: 30 days suspension, a $3,000 fine, and six demerit points.
Please note that Ontario driver's licence suspensions for distracted driving are not enforced at roadside. Suspensions come into effect when you are convicted of a distracted driving offence.*
Novice drivers holding G1, G2, M1, or M2 licence types can face even longer suspensions.
For a first and second offence, novice drivers could additionally receive 30 and 90 day suspensions respectively. For a third offence, the penalty could be a suspension of their licence and removal from the Graduated Licensing System (GLS). This would require the offender to restart the GLS process.
Under the definition set by the Ontario government, anything that causes a driver to be less focused on the road constitutes distracted driving. This can include activities such as:
Simply holding an electronic device in your hands (hand-held communication during driving is against the law).
Using a cellular phone to talk, text, check maps, or switch playlists.
Eating (there may not be a licence suspension, but the police warn you could be fined or given six demerits depending on the food).
Reading books or documents.
Typing a destination into the GPS.
Please note that distracted driving is not limited to just the use of electronics, as most people assume. Doing any of the aforementioned activities while behind the wheel makes you guilty of distracted driving, even if you're on the highway or stopped at a red light.
What you can use, however, are:
Hands-free devices (e.g. Bluetooth), but only to turn it on and off.
Mounted devices, as long as they are secured properly.
For more information, please consult the Ontario government website.
* Please note that this paragraph has been revised since the blog's original release.