Chartering a yacht? Consider the liability exposures before you embark.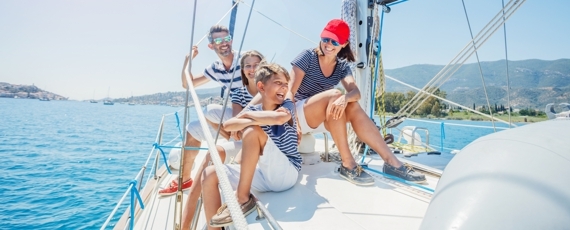 Whether you are considering a winter Caribbean cruise or a summer getaway to the Mediterranean, there is no doubt that taking a yacht out on vacation can be part of an exhilarating adventure. However, chartering a yacht does include liability exposures that you will need to address before you leave. Having a successful excursion means being prepared and protecting yourself against possible incidents involving injury and property damage. Those who do not investigate and purchase coverage before chartering a yacht can be at risk for liability claims.
Remember to buy Charterers Liability Insurance (CLI) to help ensure that your yachting experience is protected and worry-free.
What are some of the incidents Charterers Liability Insurance can protect against?
Liability issues aboard a yacht can arise out of seemingly commonplace circumstances. The following examples illustrate risks that CLI can help protect you against:
Waterskiing accidents – If a yacht guest accidentally loses control while waterskiing and injures a swimmer, CLI can help protect you from an injured party seeking compensation from the charterer and/or the yacht owner.
Accidental injury aboard the yacht – If an injury accidently occurs to a crew member and it is the fault of a friend of family member, there could be a resulting lawsuit.
Guests who don't have the proper visa documentation – Port authorities could fine the yacht with this amount being passed along to the charterer.
About Yacht Charterers Liability Insurance

Yacht CLI is coverage intended to provide protection for liabilities taken on by the charterer, immediate family members, and guests. Most importantly, CLI also provides protection in the case of third-party liability claims. When chartering a yacht, the owner's insurance coverage would likely extend to you as the charterer, however this type of coverage may not automatically offer protection for your immediate family members and guests. In addition, the owner's insurance may not include coverage for other charterer liability obligations as included in your charter agreement.
CLI commonly includes coverage for fines, damage to the hull, liability (pertaining to the crew and third-parties), and even environmental damage. Be sure to ask about specific coverage or liability limits as your charterer may have specific insurance needs.
Remember that a charter agreement is a legal and binding contract and as such it is a good idea to have it reviewed by a lawyer with maritime experience before signing it. A lawyer with this type of expertise can offer advice regarding your legal responsibilities. 
This blog is not intended to be taken as advice regarding any individual situation and should not be relied upon as such. The information contained herein is based on sources we believe reliable, but we make no representation or warranty as to its accuracy. Marsh shall have no obligation to update this publication and shall have no liability to you or any other party arising out of this publication or any matter contained herein.